Great Scott! Back to the Future: 25th Anniversary Trilogy (Blu-ray) Was $65 Now $19 @ Amazon.ca (EXPIRED)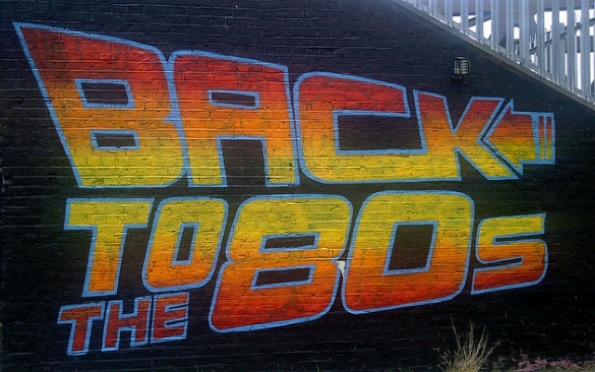 Amazon slashed prices today on the classic Back to the Future 25th Anniversary trilogy. This Blu-ray set was $65 and is now only $19. Free shipping is available if you add another item to your cart to reach the minimum order of $25.
If you are a movie buff, it is a great time to catch up on some of your favourite films. Yesterday alone we saw Dumbo go on deep discount and went quick. Then Redbox is giving you a free rental for new customers. Then we saw the list for the Cineplex Family Favourites on Saturday mornings that looks pretty awesome. Hello Muppets!
Today's deal is for a movie buff with a little more discriminating taste. This quality film is for a person who has a taste for adventure and bad corny jokes. Back to the Future is on sale in the full Anniversary Edition on Blu-ray and is a great cult classic film. This creative and imaginative comedy will be a great addition to your collection. I personally feel this is also a great movie to share with older kids and teenagers for a fun movie night. It is also a fun movie treat to invite a few friends over to watch and have an 80s themed evening. I can see the theme party now.
I suspect part of the reason this series is on sale today is because of the time travel that runs through the movie and it is New Years after all. Here is the 20-second version of these films. In the first film, Marty (an American teen in the 80's) travels back in time with the help of Doc to his parents era and changes time including the moment his parents meet. In the second film, Marty McFly and Doc travel forward to 2015 to fix an issue in the future, but discover upon their return someone else has tampered with time. In the third, Marty must travel back into 1885 to rescue Doc from a premature Wild-West themed end. You may notice a few differences from the year 2015 Marty experiences and the one we have now. Most who truly love the films will agree that the first and third films are the highlight of this series.
There are extra special features included with this special edition set. One of the notes that keeps being made is that there is an aspect ratio issue with the original Blu-ray version of this trilogy. They have corrected those issues in this latest edition so you can enjoy the film in its original hilariousness.
Looking at the prices floating around the rest of the web, Amazon has this one hands down.
$48.11 @ Staples.ca
$48.99 @ Future Shop
$49.97 @ Walmart- Regular Edition
$51.99 @ Best Buy.ca- Regular Edition
Here is one reviewer who agrees that the whole house including her teenager loved these films despite the middle film not pulling its weight in the series.
I ordered this trilogy set because my teenage daughters had never seen "Back to the Future" and we love Michael J. Fox. He is Canadian, you know!! The whole idea of being able to go back to our parents' day and even further is so exciting. Now that we live so close to 2015, it is easy to see the writers went a little too far-out in their view of the future and that's what made the beginning of the 2nd movie a bit disappointing. Having said that, keep watching - it gets better. We absolutely loved this trilogy!
Here is another tip, Bargainmoosers. Since the difference between free shipping on this item is low you may want to check out Amazon's Add-on program. Items that they would not otherwise be able to ship at a low cost can be added on to your order.  Most of these items are household items available at a great low price and will help you hit the minimum of $25 to qualify for Super Saver Shipping. If you choose not to add something else on to your order, shipping seems minimal. Amazon was quoting me only $2 in shipping to ship to Quebec.
This is another one disc set you may want to grab quickly so you don't miss out. With over 300 reviews on this item I suspect many people may have their eyes on this disc set.
Bargainmoosers what's your favourite 80's film?
(Photo Credit: bablu121)
(Expiry: 1st January 2015)