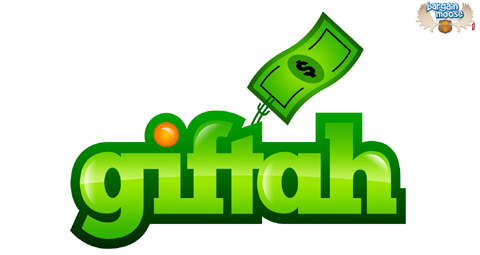 The folks over at Giftah.com have emailed Bargainmoose a unique coupon code, which you can use on their site. I've never mentioned them on Bargainmoose before, but they're basically a site which buys and sells store gift cards. With our unique coupon code, you can get an extra 5% value when you sell your unwanted gift cards.
Click here to use the Giftah.com coupon code online
Coupon Code: bmoose
Discount: 5% additional cash back
Expires: 1st November 2010
When you're selling gift cards, their blurb states that they give you up to 92% of the value of your gift cards. I had a browse down the list, and the value offered depends on what store you refer to. For example, you get 65% for Toys R Us, and 70% for Home Depot. Here are a few words from them when they responded to my query as to which merchants were 92%:
The gift cards we pay 92% for are American Express, Visa, and Mastercard gift cards. The next highest payouts would be for Walmart, gas stations, electronics stores, etc. These are the most popular cards since they are commonly used/most popular gift cards. The lowest payments are for more obscure clothing brands and other companies.
If you have a gift card that you're not going to use, you could perhaps check the value on Giftah.com and consider selling it on there. Of course, your other option is eBay.ca, but if you sell it auction style there, you can't really be sure of what value you are going to get. There are a few options open to you... just don't let the gift card sit in your drawer, and eventually expire.
P.S. I once posted about Card Swap Canada which operates a similar service. You may want to compare their offerings.