Get $50 Gift Cards for just $40 @ Staples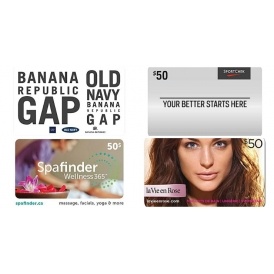 Can I, perhaps, interest you in some free money? You can save 20% on gift cards for some of your favourite retailers right now at Staples! A selection of $50 cards are on sale for only $40.
Imagine what a great gift a discounted spa gift card would be for mom this Sunday! Send her (or treat yourself!) for $50 worth of spa services for just $40. Or go all out and get $100 for just $80.
Gap Options gift cards can be used at any of the Gap family of stores: Gap, Old Navy and Banana Republic. They are always having 30% and 40% off sales -- you could be saving another 20% just by paying with this gift card.
Here's another chance to save when shopping at Sport Chek if you missed the gift card deal earlier this week. Save more on their great weekly deals!
Another great option for Mother's Day is a gift card for La vie en rose!
Note that during checkout, it will appear as if you're being charged tax on your gift cards but, rest assured, when you receive your email confirmation invoice, no tax is actually charged. It looks to just be a bug in the checkout process.
Orders over $45 ship for free so top up your total with a filler item or buy two cards!
(Expires: 10th May 2016)