*HOT* Get $50 Free With No Minimum By Signing Up @ The Shopping Channel Canada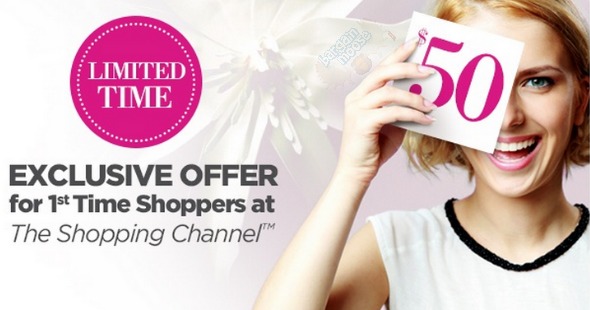 The Shopping Channel Canada is rewarding the first 5000 people who sign up with a smoking hot offer. Get a free $50 credit voucher to use at TheShoppingChannel.ca just by answering a few simple information questions. Sign up quickly if you could use $50 to use towards your purchase of select brands like KitchenAid, Dyson, Vitamix and more. This offer will run out fast and there is no minimum purchase.
How exciting! If you are a first time shopper at The Shopping Channel, you can sign up and receive a free $50 voucher code to use towards your purchase. This offer will only be valid for the first 5000 promo-code redeemers so make sure to use yours quickly (but wisely). Signing up is super easy and free. It took me a total of 30 seconds to fill out the required information, but it could take up to 2 hours for you to receive your coupon code. This will be a unique code, so don't share yours with your friends. This is the one time it is okay to be a little selfish.
Some conditions will apply. The fine print reads that there is no minimum purchase required, which means you could even get something you need for free or next to free. Even though today is National No Housework day, you might want to shop great brands like KitchenAid, Dyson, Vitamix and more so you might not find anything in the $50 price range though. I was in need of a new vacuum, and I hear that Dyson is the way to go. The Dyson DC57 Handheld Vacuum would be great for reaching those impossible to get places. This vacuum is $149.99 but once you use your voucher code, you could pay just $99.99.
I however, took this coupon code right to the clearance section. In the clearance section at The Shopping Channel Online, I found these Fergalicious Tiara Tall Boots. These boots were $135 and discounted down to $49.88, once I used my free $50 credit - these boots were FREE! All I had to pay was shipping fees, which will vary depending on your location. Take a look: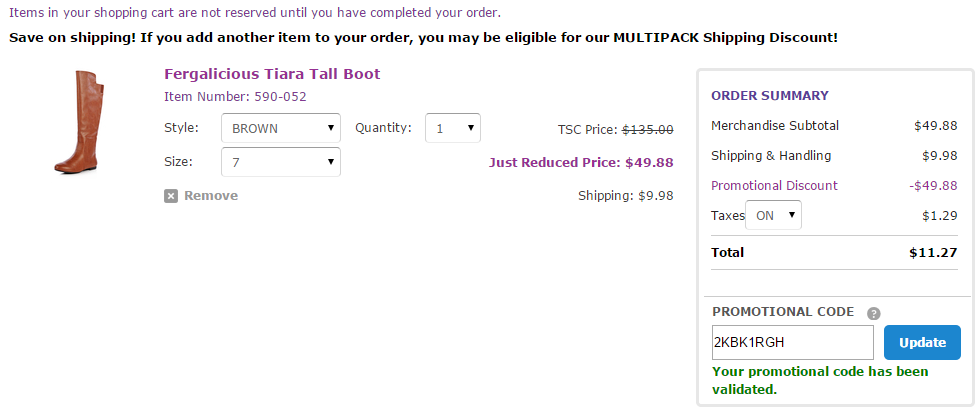 You will be able to redeem this promo code until 5000 have been used, or until the 3rd of May 2015. Unfortunately Quebec residents are excluded from this promotion. This The Shopping Channel promo code also can't be applied to items like Pink Tartan merchandise, coins, electronics & electronic accessories, and gift cards. This coupon code also can't be combined with other discounts, but hopefully you can combine it with free shipping when you spend $150.
You can view more The Shopping Channel Canada coupon codes in our Bargainmoose forum.
(Expiry: 3rd May 2015)