Gelaskins: 20% off All Art Prints & Extra 10% Exclusive Discount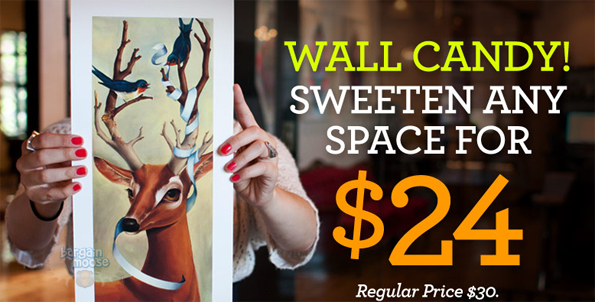 Gelaskins provide such a variety of artwork with over 100 artists, or you can create your own Gelaskin for the device of your choice. Whether it is for phones, iPod, MP3, laptops, netbooks, tablets or eReaders, you can choose from 1000+ pieces of art, or use your own photos or art to create a masterpiece! Right now they have 20% off, but only until Sunday.
Gelaskins also offer an ongoing 'buy 3, get 1 free' so you can change your skins often. Although re-using the skins isn't recommended, their customers report having success if you peel it back and store it in the original packaging.
What a great deal including the 20% off sale!  For the price of 3 items, you get 4 and a 20% discount on the total! But wait for it; you can even use the Bargainmoose exclusive coupon code for another 10% discount on top of these sale prices! Just use the Gelaskins coupon code BARGAINMOOSE10 at checkout.
The most cost effective method of delivery is Canada Post @ $2.95, which could take up to 10 business days.  UPS delivery depends on the size of skin you choose, but its standard delivery is between $6.75 & $7.95. If you need faster delivery expect to pay $14.95. Note to self: Gelaskins ships from the US so their pricing is in US$.
Flight School is a colorful & interpretive, 12x8 inch print. The artistry includes my favorite color.  It is regularly priced at $30. Include the Bargainmoose.ca coupon, this item is $21.60. Do you remember what that is? Of course not! I haven't said yet. Pink of course!  Pastel colors with pink blooms on the tree makes this a good choice for me, after all, I'm a girly, girl from way back.
If your device isn't listed with Gelaskins, they are open to suggestions.  My laptop is a 3 year old HP, which isn't listed as a device provided but Gelaskins is eager to please. For now, it appears GelaSkins lean toward Mac or Mac compatible devices so if anyone knows a website providing  skins for 'other' than Macs, please drop me a line in the comments below. And thank you!
(Expiry 27th May 2012)