Check Out These Nifty Items - Free Shipping Too @ 123InkCartridges Sites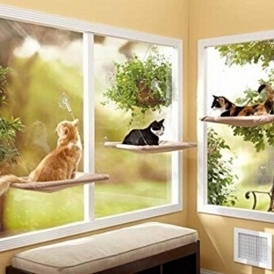 I honestly did not know that 123InkCartridges.ca had a "Life & Fun" section, but I am totally glad that I found it. There are tons of fun and nifty items and trinkets, where do I start?! I'll start by telling you that you can use the code CANADA2016 to get free shipping, with no minimum spend, across all the 123InkCartridges websites. That includes 123InkCartridges, Prime Cables, Lighting Box, Photo Gear and Phone Gala.
There are items from $0.88 in the Life & Fun clearance section - so you definitely have a lot of deals to choose from! For the kids, I really like the Built Big Apple Buddies Kid's Lunch Bag which comes in 3 different varieties for just $11.99.
Do you have a crazy cat lady in the family? Then maybe you should add this Sunny Seat Professional Window Mounted Cat Bed to your shopping cart. Cats love lounging around in the sun light, so this is perfect. It will cost you just $7.99 including shipping right now.
Plus, check out the other websites if you need phone chargers, phone cases, etc. There are oodles of options and with free shipping, the sales sections are so much more appealing.
Normally you would need to spend $49 at 123InkCartridges.ca and the sister sites to get free shipping, but not everyone wants to spend $49 on trinkets and such, luckily with the code CANADA2016 - you don't have to worry about how much you spend in order to get free shipping.
(Expiry: 22nd June 2016 @ 10 AM EST)