Free Marvel Winter Soldier Figure with $75+ @ Lego Canada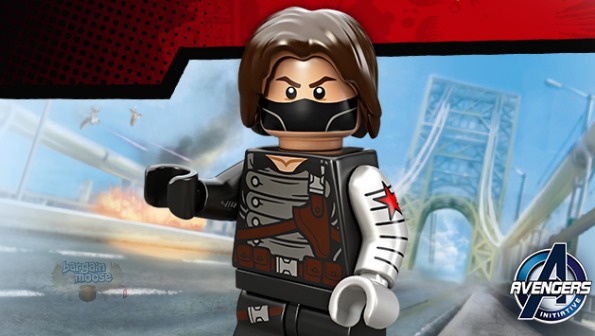 Receive a free limited edition Marvel Winter Soldier Figure when you spend $75 or more at Lego Canada.
I recommend raiding the sale section for good deals on LEGO and LEGO themed items.
The LEGO Legends of Chima Scorpion Sword & Shield is a fantastic deal right now at LEGO Canada. This set allows your children to bring the Legends of Chima to life with their very own sword and shield. Originally $21.99, this set is now on sale for $5.48. I could not find this set elsewhere in Canada, but I did find it for $13.99 USD at Amazon.com.

Next, this LEGO Legends of Chima Game Cards Binder will give your child a place to store their game cards in 12 transparent sleeves. originally $15.99, the binder is now on sale for $3.98.

LEGO Mixels are fun little toys with interchangeable parts. There are a few of these cute little things on sale. The 41527 Rokit is on sale from $5.99 down to $4.48. This little guy has 66-pieces of LEGO. The 41528 Niksput is also included in this sale from $5.99 down to $4.48. His body is made of 62-pieces of LEGO. To complete the trifecta of Orbitons tribe members, purchase 41529 Nurp-Naut for only $4.48 as well (was $5.99). This little guy with the spinning head is made out of 52-pieces of LEGO. One reviewer said:
Out of the all the orbitons, I think nurp-naut is my favourite. Probably because of his 2 faces
Another reviewer commented on the set's price:
This set is a very good value you should get wile you can
If course, you want someone to play against. Pick up 41531 Flamzer, one of the three members of the Infernites tribe from LEGO Mixels. He is also on sale from $5.99 down to $4.48. Made out of 60-pieces of LEGO, this little guy is great for ages 6+. All of the Mixels sets are designed for that age group.

There are plenty of great little deals @ LEGO Canada. The sale items qualify towards the minimum for the free Marvel figure. You will also receive free shipping on orders of $75 or more. As you need to reach this minimum anyway for the free mini figure, you will receive free shipping with this deal.
You will also receive a Free LEGOLAND kid's ticket voucher with your order - another bonus!
This offer is available while supplies last: the free mini-figure will be added to your cart automatically.
(Expiry: Unknown)