Flamen 18 Piece BBQ Set in Storage Case was $80 now $35 + Free Shipping @ Amazon.ca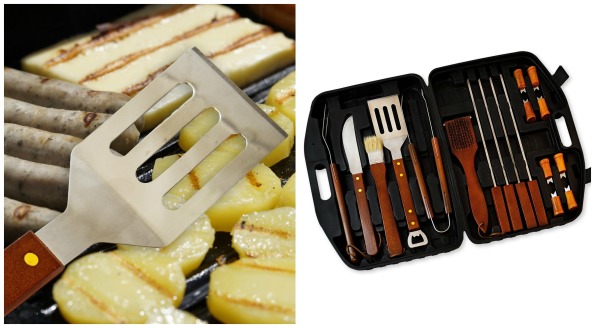 Ready for a great Valentine's day deal? Amazon Canada is! While looking through their Valentines day gift suggestions, I got side tracked when I saw this great BBQ set pop up. Originally $79.99 but now at $34.99 plus free shipping, I was convinced that I had found the perfect gift.
One of the greatest aspects of this set is the case that the utensils actually come in. With the look and feel of a toolbox, the casing sits perfectly in your tool storage. The stainless steel and wooden handles give off a rugged and timeless look for your next BBQ gathering.
As soon as I saw this, I actually thought of my father. He has always been one for meat smokers, grills, and BBQ meals, but has been using the same old tools for ages. He also happens to be the man who seems to have it all, so I never know what to get him. This, however, seems like exactly the thing that he would love to have, but would never think of getting for himself. Needless to say, it's going to be a great Valentines day for him (and for us if he decides to use it right away on his famous steaks!)
Once again, Amazon is offering free shipping on this already great deal!
(Expiry: Unknown)