Fisher-Price Little People See N' Say Was $22 | Now $11 & Free Shipping @ Amazon.ca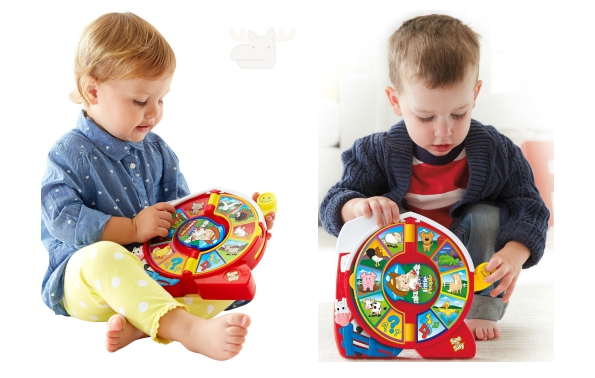 Are you shopping for new toys for your young ones? I just found a fantastic little deal on this Fisher-Price Little People See N' Say Farmer Eddie Says Toy. Originally $21.99, this little See N' Say toy is now on sale for $11.24. Receive free shipping with Amazon Prime or else shipping is free on orders of $25 or more.
The Fisher-Price Little People See N' Say Farmer Eddie Says Toy currently costs $22.99 @ Toys R Us Canada. It was also on sale for $19.94 @ Walmart Canada but is completely sold out. Given that the competitors are so far above Amazon Canada's current price; I just had to post this deal. The only downside is that the toy will not ship for two to five weeks. However, this little toy would make an excellent and affordable Christmas gift for a lovely little child. Perhaps, it is their first Christmas or maybe it is their second. Either way, this little top will be a lot of fun for young children.
This toy is a classic, and one of my babysitters had this when I was a kid. I really liked pulling the leaver and seeing what animal it would choose. The dial lands on an animal and says the name and makes sounds. For example, your child will hear a 'moo' when the dial lands on the cow.
The toy has been updated from my day: and now it has a mystery box and a music box. This version also has more options as it has a half-circle attachment that your child can flip over for more animals. It is like two wheels on one! This toy is great at teaching children the names and sounds of common barn yard animals. One reviewer at Toys R Us said:
My granddaughter is 16 months old and beginning to say animal sounds ~ the See 'n Say was the perfect gift to recognize the animals and the sounds they make ~ an added bonus is the music portion of the toy ~ as soon as the music begins to play, she starts dancing in place.
At this price, it will be worth the wait for shipping. Just make sure to buy it before the price jumps up!
(Expiry: Unknown)