EXCLUSIVE Tuango Coupon: Save $5 off $20!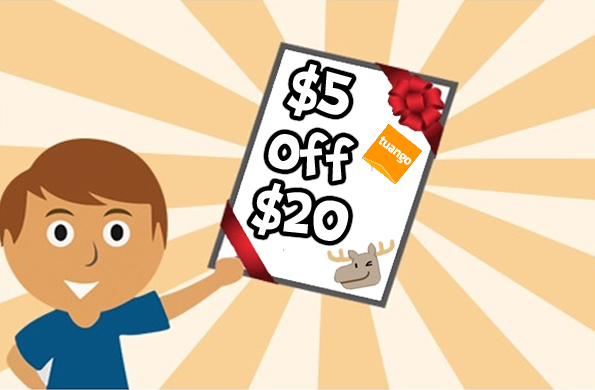 The Montreal based daily deal site Tuango.ca has given us a few exclusive coupon codes in the past, mostly for a percentage discount. This time round, we asked if it was possible to get a dollar discount for the Moosers, and they have replied with a great little promo code – you can save $5 when spending $20 or more on any boutique deal! Here are the details:
Click here to use the Tuango coupon code online now
Coupon Code: FALLMOOSE15
Discount: $5 off $20+
Expires: 30th September 2015
With this Tuango coupon, you will be saving $5 as long as your order meets the $20 minimum threshold (shipping costs too). The coupon code is limited to one user per Mooser, so you won't be able to use it many times on the same account – just keep that in mind.
There are some items on the Tuango site which have been very popular – they show how many people have bought those items, so we can tell that people are interested. Here are a few examples of such items and the prices they will be with the coupon and with shipping:
These Lauren Taylor sheet sets have been bought by over 1500 people!! They start in price from $19.99 (for the twin size) plus $8 shipping. That comes to $28 but our coupon code brings that down to only $23. If you're going for a larger size, you'll pay a bit more.
Nearly a thousand people have bought these Nespresso machine Compatible Italian coffee capsules by Caffè Ottavo. They are $39 plus $5 shipping – so our coupon code pretty much entitles you to free shipping on these. :)
Another item that nearly one thousand people have purchase is this shredded Memory Foam Pillow with rayon bamboo cover. It is priced at $29.99 plus $10 shipping – shipping is a bit steep on that one! At least our $5 coupon goes towards that, bringing it to a final price of $34.99.
You can have a browse of the Tuango site yourself and see if there's anything you need!