Evenflo ExerSaucer Deal Roundups: From Only ~$60!
While browsing the interwebs just now, I spotted a few great deals from different Canadian stores on the Evenflo ExerSaucer – a popular bounce & learn toy for young babies. Now… there are a few different designs and models to choose from, so it can make it difficult to price compare the whole lot. But I have found a few standout deals on select designs, so I want to share the different deals and models here with you, in one single post. Here they are – with prices from lowest to highest!
Shop.ca: Beach Baby or Sweet Tea Party from $60 & Free Shipping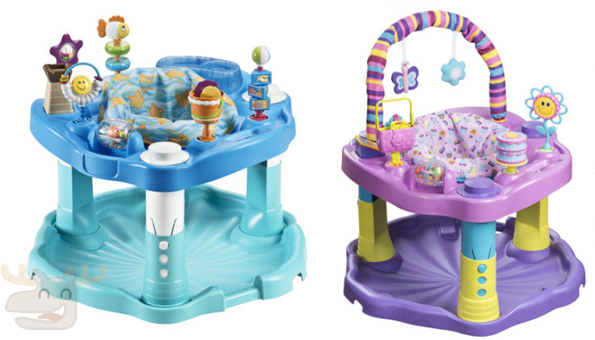 First up, you'll have to use our exclusive coupon code MOOSE40OFF100SEPT online at Shop.ca for this deal. That coupon code will get you $40 off $100, so what you want to do is choose one of the bouncers below and then top up your cart with something small to get the best deal. You can choose from the girl-targeted sweet tea party ($99.99) or the boy-targeted beach baby model (also $99.99). The coupon code will knock $40 off your shopping cart. This is the best deal providing you want to order something else too.
Shop.ca: Zoo Friends - $74.98 & Free Shipping
The Zoo friends model of the Evenflo ExerSaucer is also on special offer at Shop.ca. It was originally priced at $99.97, but it's now down to only $74.98 with free shipping. This is a good deal to buy on its own. But if you need other items at Shop.ca anyway, then be sure to use our Bargainmoose exclusive coupon codes for an extra discount. ALTERNATIVE – if you prefer Amazon, get it there too.
Amazon.ca: Splash Mega - $75.88 & Free Shipping
Our old favourite store, Amazon.ca, has the Evenflo Splash Mega Exersaucer at a discounted price too. It was originally $129.99, but you can get it for only $75.88 right now! That's with free super saver shipping, of course.
Walmart.ca: Bouncin Barnyard $75.97 & Free Shipping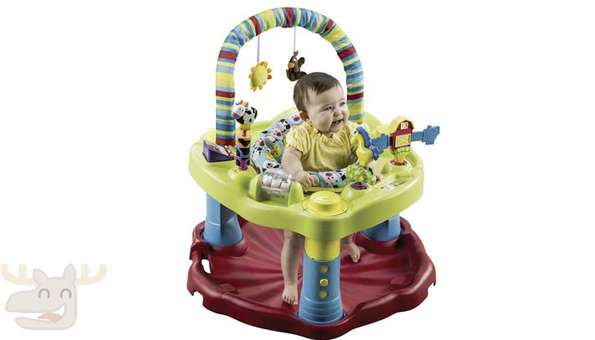 Over at Walmart Canada, you can pick up the Bouncin Barnyard model of the Evenflo ExerSaucer at a great price too. While it's not stated that it's reduced as such, the price of this one is coming in at $75.97. You will get free shipping too!
Most other stores have various Evenflo bouncers from $100 and upwards… so take your pick of the deals above.
P.S. Great Christmas gift idea!