Egg-a-Matic Skull Mold only $8 @ Amazon.ca!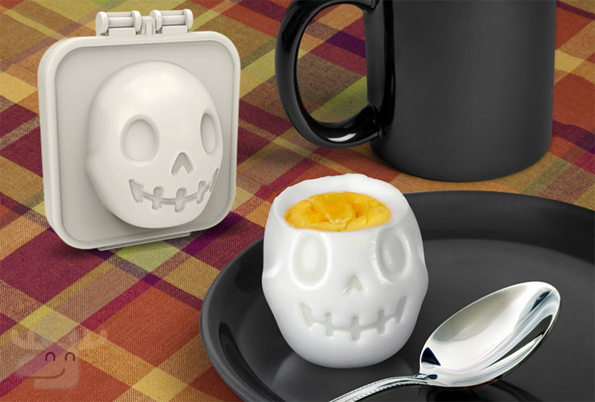 A few days ago, Brooke posted about this adorable egg shaper on sale for only $2.20 from eBay.ca (it's still available). This item was incredibly popular on our Facebook page with many Moosers commenting upon it and buying it for Halloween. Today over on Amazon.ca, I've found an item on a similar theme – it's the Fred and Friends Egg-A-Matic Hard Boiled Egg Mold Skull! You can grab this cute little kitchen accessory for only $8 there.
In the above image, you can see what this Egg-A-Matic Hard skull mold can do. Doesn't that look brilliant!?
When I first glanced at it, I couldn't quite figure out how to use the egg mold, so I had a read to see how it works. What you do is this – you boil your egg normally, peel it then just pop it into the mold. Let the egg rest for a few minutes and it takes the shape of the mold – in this case, a skull.
The description on Amazon then suggests:
Embrace your inner zombie and scoop right into the tasty yolk (a little sriracha or ketchup wouldn't hurt, either). Braaaaainss.
Yay! In my opinion, things like this which make a little fun in mealtimes and encourage the kids to eat, are worth every cent.
Shipping?
If you are a Prime member, you can order the above item for free shipping, without worrying about any minimum thresholds.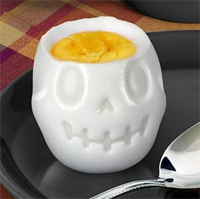 If you're not a Prime member, why the heck not!? You should get it in order to be able to jump on deals like this one, at a moment's notice without worrying about shipping.
Free super saver delivery would apply if you make your order up to $25 or more.
I've seen this item for sale at a few online stores in Canada, from between $8 and $10. However, most don't offer free shipping and you'd have to pay extra for that anyway. You might as well take advantage of the deal on Amazon and aim for one of the free shipping options. :)
(Expires: Unknown)