Edible Arrangements Coupon Code: $10 Discount On Any Order!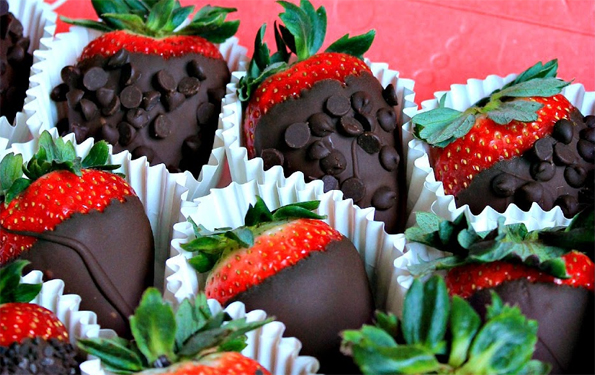 To celebrate the new year of 2015, Edible Arrangements released a coupon code which will get you a $10 discount on ANY order you place online! Here are the juicy details:
Click here to use the Edible Arrangements coupon code online now
Coupon Code: NEWY2015
Discount: $10 off any order
Expires: 4th January 2015
I tried the above coupon code on the cheapest item that I could find on their site. There are a range of $29 dipped fruit boxes, such as these Chocolate Dipped Apples and Strawberries Box or this Simply Dipped Mixed Fruit Box, which look delicious. And the coupon code worked well, as you can see in the screenshot below.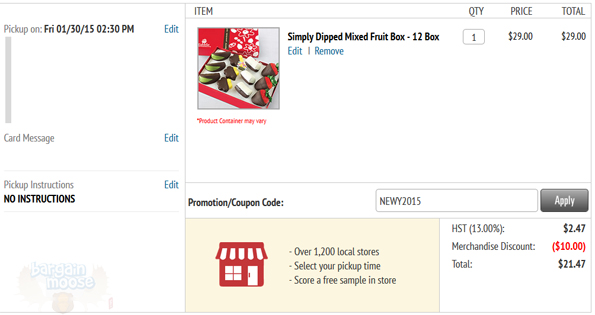 So, you have a couple of choices in terms of shipping or collection. Standard shipping on a low value order seems to cost $13.99, which is quite steep and almost kills the deal. But when you consider the $10 coupon code, it can offset that shipping fee meaning you're really only paying $4 for shipping. Alternatively, if you live near an Edible Arrangements store, you can collect your order for free. This means you can take advantage of the coupon code and get the full $10 discount on your order. There are many stores dotted across the country, so hit up their store locator and see if there is one near you.
Out of all the items on the Edible Arrangements site, I think I'd like to try this Delicious Celebration Dipped Strawberries & Pineapple arrangement. It's priced at $66 but it would be $56 with the above coupon code. It looks scrumptious! My partner would be more inclined to go for the likes of this Chocolate Lovers' Gift Tower which is currently priced at $79 for the 48 piece bundle. But it would be only $69 with the coupon code. Sixty-nine, dude!
You know, I once tried making chocolate dipped fruit at home. I used some large juicy strawberries with a mix of both dark and plain chocolate, and finished them off with some coloured sprinkles. The first few Strawberries didn't look quite as good as you'd see in the window at Edible Arrangements, but by the end of the endeavour, they fruit was starting to look pretty sharp. I took them to a party where we had to bring along some dessert, and they went down a storm. I'll definitely be trying them again! Have you ever tried to emulate the yummy goodies you've seen at Edible Arrangements?