$10 Credit With $50 Gift Card Purchase @ Amazon.ca *RARE*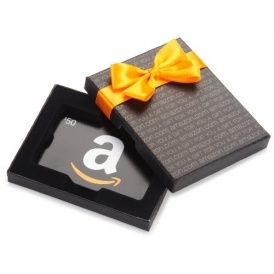 Wow! Here is a rare offer from Amazon Canada. Get a $10 credit when you buy gift cards over $50, just use the code 0316GIFTCA at the check out process to apply the offer. I was just browsing through Amazon.ca when this coupon code popped up, and it seems to be working for everyone—so splurge!

I feel like I just took candy from a baby, because I sent the e-gift card to myself. Though, this is a great gift if you know anyone with a birthday coming up. You can buy the gift card now and have it delivered to any email you desire within the next year. You can also only use this coupon once per account, so be wise about it.
Here's how to get this offer:
Follow the link above, and click on the "gift cards" tab.
Once you get to that page, click on "eGift".
Then you can add a $50 gift card to your shopping cart.
View your cart, and add the code 0316GIFTCA
The coupon code expires on March 31st, 2016 but I wouldn't wait long to use it. Amazon.ca has a tendency to pull deals out from under us, so go ahead and add a $50 Amazon.ca e-Gift Card to your cart. You will pay just $50 and get $60 worth to spend at Amazon.ca—that's a steal!
Plus, once you have that e-gift card you can then watch Bargainmoose for deals on hot items that you need to get your hands on. So not only will you get a free $10 credit with the $50 gift card, but you will get further discounts on popular items. Amazon is always releasing new deals.
Moosers, what will you use your gift card for?

(Expiry: 31st March 2016)