Doctor Who 10th Sonic Screwdriver Just $25 @ Amazon Canada *HOT* (EXPIRED)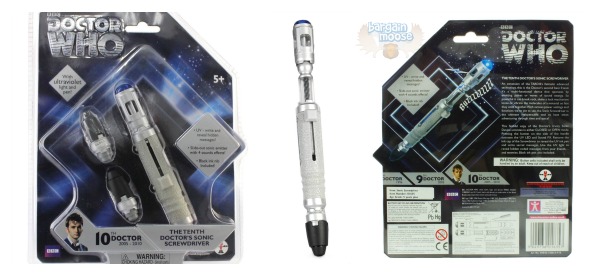 Hello geek toys! These are the toys we buy for ourselves or we buy for our friends and partners but they are not really the toys we buy for our kids. Amazon Canada has a lightning deal on for the Doctor Who 10th Sonic Screwdriver from Underground Toys. Regularly priced at $34.40, this awesome little toy is on sale for $24.99.

This deal is so hot, it is 76% sold out already. You will want to head over to Amazon quickly to pick up your own copy of the 10th Doctor's screwdriver. I price compared with equal quality screw drivers but they are surprisingly hard to find. I found one at Toys R Us for $34.99 and this appears to be the general retail value unless you get something really cheap from a foreign country.
This screwdriver features a large green light and a faithful replica of the Doctor's trusty sonic screw driver from the Dr Who TV series. The screwdriver has a spring loaded extending action. You can press a button on the handle's side to activate the LED and the sound FX. All of that operates when the screwdriver is closed. If you flip open the cap at the end of the device, there is an an extra button that turns on the light and sound effects when the screwdriver is open and fully extended.
The reviews on the screwdriver are rather mixed. It seems to be best as a display piece as it looks really nice but the durability leaves something to be desired. As this reviewer said:
Ok, so the quality is not GREAT. But what do you want at this price point? There are all-metal "real" versions of the Doctor's screwdrivers available elsewhere online, but expect to pay an appropriate amount for them. I got exactly what I expected, although admittedly the UV pen works a little better than I would have thought, even though I'll never use it. We've put it in our Whovian display case with some of our other collectibles, and it filled the space beautifully.
I think the reviewer has a point. If you want a sweet little gift for your little Whovian friend or yourself, this is a nice deal.
Receive free shipping on orders of $25 or more. In my cart, it was ignoring the one-cent difference and giving me free shipping on this item alone.
(Expiry: 10th December 2014)