Disney Frozen MagiClip Flip 'N Switch Castle and Anna Doll Was $25 Now $16 @ Amazon!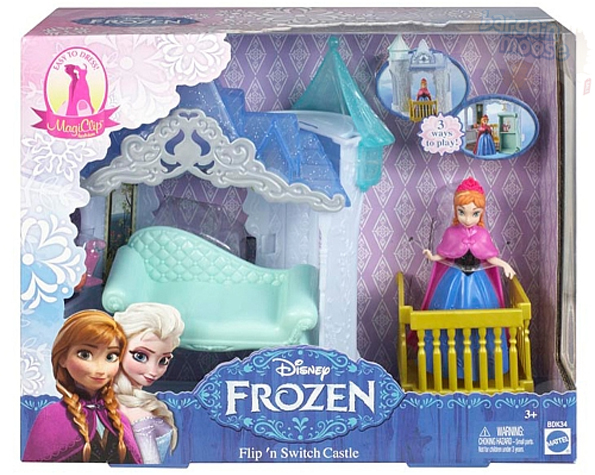 If you haven't yet picked up one of these $14 Anna of Arendelle dolls from Avigayil's blog post last week, then check out this new deal! I just spotted a decent price drop on the Disney Frozen MagiClip Flip 'N Switch Castle and Anna Doll on offer @ Amazon Canada. Previously priced at $24.99, it's now only $16.24.
So compared to buying the doll on its own, you are only paying an extra $1.30 for the castle and accessories, and it's a really great price. I cannot find this deal at many other online Canadian retailers, but I did spot it for $25 @ Toys R Us Canada. I think that the Amazon price is really competitive.
As most of you probably know, this item is under the free shipping threshold for Amazon.ca which currently stands at a $25 minimum. But if you're like me, you'll find it really easy to pop some other items in your shopping cart and bring it up to the free shipping level – I highly recommend doing this.
I think Frozen toys are the must-have items this Christmas. Even though the movie came out last year, it's just grown and grown in popularity since then. I've just had a glance on IMDB and it scores 7.7 out of 10. I actually thought it would have scored higher than that. If you have a young family and you haven't yet seen Frozen, I'd definitely recommend having a watch.
In our household, we only first watched it a few months back, and it's also exploded in popularity within our walls too. And this Christmas, Santa is bringing it on DVD and also bringing an Ana and Elsa doll too. I've got a bit of a dilemma though, with having two daughters. Who gets Ana and who gets Elsa?! I think both characters are excellent, but Santa really isn't sure which to give to my older daughter. ;)
How about you? Is any Frozen themed merchandise making your way under your Christmas tree this year?
(Expiry: unknown)