Dinosaur Wall Decal Deals: From only $6.55 Shipped @ Amazon.ca!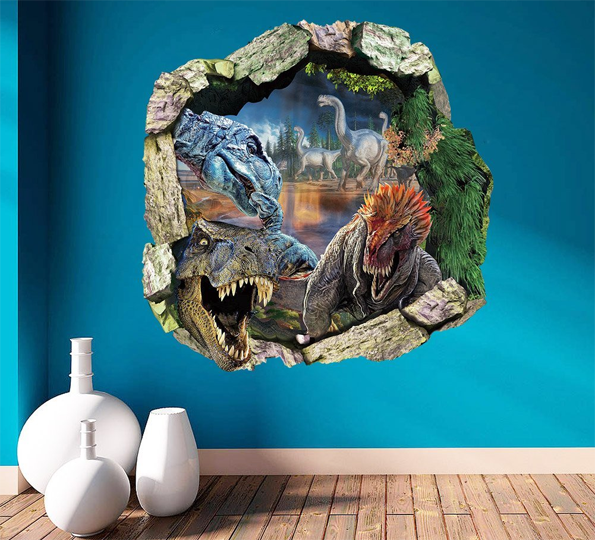 On Amazon, I've spotted some really interesting wall decals which would be absolutely fantastic for a kid's room, plus there are some excellent prices too. From only $6.55 including shipping, you can choose from a few different designs.
First up, it's the 3D Dinosaur World vinyl wall sticker which I have pictured above. It is priced at $5.95 plus $2.98 shipping, so that comes to a final price of $8.93. I think it looks superb and it's a low price to get it shipped to your home.
Secondly, we have the 3D Dinosaur Paradise Creative Wall Sticker, also coming in at $5.95 plus $2.98 shipping – again, a final cost of $8.93.
Thirdly, the lowest price point is the Through Walls 3D Removable Vinyl Wall Sticker, priced at $3.57 plus $2.98 shipping – a final price of $6.55 (as mentioned in my post title). This one is cute, but it looks a little smaller than the above designs.
Fourthly, we've got the Dinosaur Broken wall Wall Sticker for $4.98 plus $2.98, a final cost of $7.96. This one would look fantastic on a white or light coloured wall.
Fifthly, check out the deal on the 3D The World of Dinosaurs Wall Sticker – this one looks huge! It's final price is only $8.90 ($5.92 + $2.98).
And here are two more small stickers:
All of the above items are from the Amazon seller Dushang. Now, even though the above items are from the same seller, it doesn't equate to a shipping discount. You still have to pay the small shipping fee on each item, which is a shame.
To get similar items to this from other online retailers in Canada, it can be pricey!! Having a look on Etsy, I am seeing similar ones for $60 (!), they're around $40+ on Allposters.ca, and $33+ on Cafepress. Great little deal!
(Expires: unknown)