Dexter: The Complete Series Limited Edition Giftset [Blu-Ray] Now $95 @ Amazon (EXPIRED)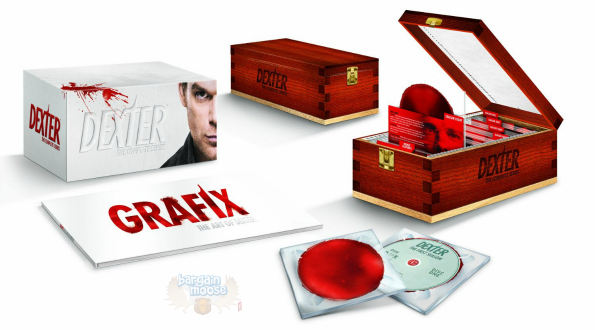 Amazon's sweet deal of the day is Dexter: The Complete Series Limited Edition Giftset in Blu-Ray is on sale from $599.99 down to $94.99 with free shipping. While the original price is a bit inflated, this is still an excellent price for the complete Dexter.
I price compared this set with other online retailers. Best Buy Canada has the same boxed set for $224.99 and Walmart Canada sells the same set for $304.97.
This box set looks pretty awesome. However, the packaging is not quite as good as it looks. While the box looks like it is made of real wood, it is not - something that has disappointed many reviewers of this set. The box includes blood slide packaging for each disk. There are also plenty of extras including "Grafix," which is the art of Dexter book. You also receive a bonus disk with new special features including behind-the-scenes cast interviews, "The Evolution of Dexter Morgan" documentary, and "The Code" documentary.
Now, if you do not have a Blu-Ray player, you can also pick up the DVD set for a fantastic price. Originally $499.99, the Dexter: The Complete Series Limited Edition Giftset DVD set is on sale for $62.99. Again, this original price is over-inflated but I did find the box sets for a much higher price (than the sale) elsewhere.
Walmart has the entire set for $251.97 and Best Buy Canada is selling it for $149.99. Either way, you are well over double Amazon Canada's sale price right now. Now, one reviewer on Best Buy had this to say:
This product was everything I hoped it would be! I really wish there was an option to upload photos, because I'd love to show how awesome it is. Being an avid Dexter fan this was the best Christmas gift I could have received.
I have never watched Dexter myself, but it is a celebrated series. I know several people who watched and loved it very much. With 33 disks in the set, you are receiving excellent value for your purchase price. As each set costs over $25, you will receive free shipping on your entire order.
(Expiry: 28th April 2015)