Dealfind Canada: $14 For LOTR Gold Plated One Ring ($49 Value)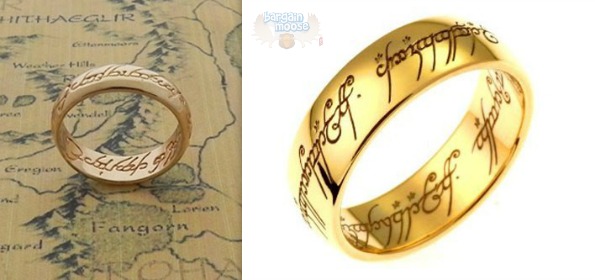 If you are a fan of the epic Lord of The Rings trilogy by Tolkien, or have warmed up to a bunch of dwarves trying to reclaim their homeland in The Hobbit, then you will be very familiar with my precious. You can get your own hands on a copy of this ring for just $14 + $5 shipping.
If that link does not take you directly to the deal, just search for "Medieval Lord Ring" and you should be able to find it.
This beautiful gold-plated ring has the classic Elvish script, which I am not quite geek enough to rattle off. However, translated into English the ring reads:
One ring to rule them all,
One ring to find them,
One ring to bring them all and in the darkness bind them.
When ordering, be sure to select the appropriate size for your finger. You can order this ring in sizes 7, 8, 9, 10, or 11. If those sizes do not fit, you can always do as Mr. Frodo did and put it on a chain around your neck instead of wearing it around your finger. After all, you do want people to see you with this stylish ring, right? If I were ordering the ring just to wear on a necklace, I would probably order the largest size because I love large pendants. Besides, this ring used to grace Sauron's finger. Just from looking at the guy, I think he had pretty big fingers.
While this is not part of the official licensed gear, it is a good deal for anyone who cannot afford to fork up the cash for that line. It also makes a fantastic gift for anyone who loves Tolkien and quivers at the mention of the next Hobbit movie (that is me). I would certainly love to sport this little treasure at the third Hobbit movie coming this December.
Tax is included in your purchase, so your total cost will only be $19. Be sure to enter your current valid address, as the ring will be shipped to the address you enter upon checkout. The ring will take about three to four weeks to ship once the deal has closed. This is not unusual, but maybe not the best option if you are looking for a gift for someone's birthday in July.
Are you a fan of Tolkien?
(Expiry: 11th June 2014)