Crayola Minions Inspiration Art Case Was $38 | Now $15 @ Amazon.ca *HOT* (EXPIRED)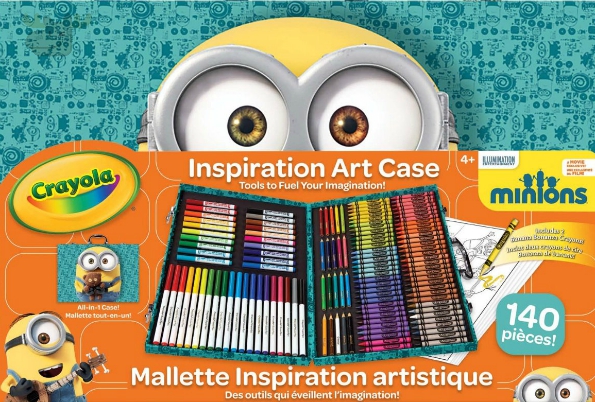 Crayola is a household brand for kids' crayons, pencils, art supplies, and more. I ran across this Crayola Minions Inspiration Art Case on sale from $37.99 down to just $15. Receive free shipping with Amazon Prime or on orders of $25 or more.
This same art case costs $37.99 @ Best Buy Canada and $39.99 @ Toys R Us Canada. It is not stocked at Walmart. This art case has a total of 140 pieces including: an all-in-one case, 64 crayons, 20 short coloured pencils, 40 washable markers, 15 printed Minions sheets, two banana bonanza crayons, and tools to fuel the imagination.
as we have mentioned before, Minion themed toys are super big right now and I cannot think of a better gift for your budding artist. I checked out other Crayola Art cases of the same size, and found that they all retail around the $27+ mark depending upon their theme. Given that this theme totally rocks and the case is over 60% off, I just had to share it with you.
I really like how they include colouring sheets for your child with the crayons. I think this is a great place to start and then you can always find printable colouring pages or buy a few colouring books. The Minions theme is both on the case, in the colouring sheets, and exemplified in the two banana bonanza crayons. Your kids are going to love this set if they love Minions.
This art set would also make an excellent Christmas gift. It is a very large set with 140-pieces and would make an amazing gift for your Minions living children. It could even be a joint gift for siblings or you could buy theme each a separate kit at this price. If you bought two kits, then you would receive free shipping on your order as well. I honestly think this kit looks more expensive than the price you will pay - always a nice feature when giving gifts.
While this kit still has a good amount of stock, we never know how long that will last. Also, Amazon is notorious for changing prices so pick up this set as soon as possible.
(Expiry: Unknown)