Complete Classic DVD Teenage Mutant Ninja Turtles Was $110 Now $40 @ Amazon Canada! (EXPIRED)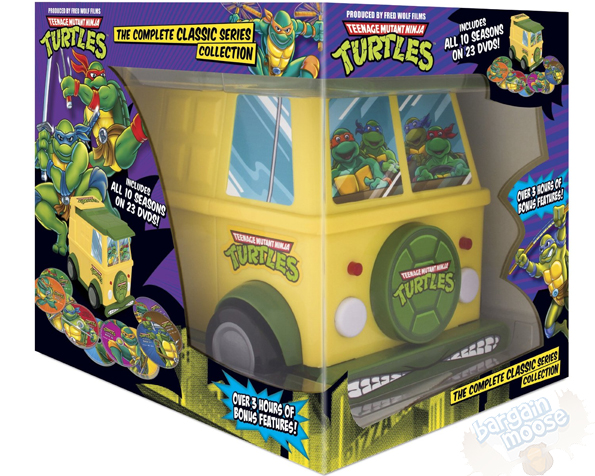 Wow! The totally tubular complete set of the Teenage Mutant Ninja Turtles series is on sale @ Amazon now for only $39.99 (Was $109.99). Stash this classic series in your cart and you'll save 64% plus score free shipping.
Cowabunga! The Teenage Mutant Ninja Turtles are back in a special edition complete series including all 10 seasons.  Leonardo, Donatello, Raphael and Michelangelo are all back and ready to fight crime with the guidance of their Sensei and the help of their reporter friend April. Watch as the turtles jump in and out of sewers and fight enemies like Krang and Lord Dregg. They pretty much save humanity during every awesome episode and then stop for a slice of pizza to regroup, what's not to love?
This set is a steal for any child of the 80's, 90's or for your favourite super hero loving kid. Teenage Mutant Ninja Turtles are making a comeback and are becoming popular all over again. You'll enjoy the whole classic collection in this cool pack that includes a pretty neat carrying case shaped like their bus. Plus it gives you a change to brush up on your entire TMNT lingo like awesome, tubular, cowabunga and dude. Now I need to work at adding more of these words into my conversations today because they are totally rad.
Prices vary at other retailers, but finding the complete series all together is tough. Here's what I did find around the web:
$74.99 to $84.99 @ iNetvideo.ca - individual seasons without the van case $7.49-$8.49 each
$76.99 @ Walmart
$119 @ Best Buy, individual seasons without the van case for $11.99 each
$119 @ Shop.ca, individual seasons without the van case for $11.95-$12.79 each
Future Shop, I expected you to have this series also but you let me down!
One reviewer on Amazon who seems to really know his Turtles says even finding the whole classic series is tough.
This collector's edition of TMNT is awesome. Cool packaging and the whole series all in one place. I have all the DVDs from before and bought this too as the turtle van is just so gnarly.
This deal is a great buy at this price. Just tell your friends you used your turtle power to find it.
Expiry: Unknown