Chocolate Covered Fruit Boxes from $30 @ Edible Arrangements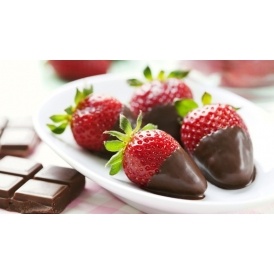 Edible Arrangements Canada has a fab new offer right now. You can shop online during their Chocolate Dipped Fruit Sale and get up to 45% off chocolate dipped fruit boxes - my favourite! Prices start as low as $30 and I am quite excited to be honest.
There are so many delicious options to choose from when shopping at Edible Arrangements Canada. The most popular option is going to be their Swizzle Berries. The special price for this box ranges from $30 to $60. This box would normally have cost you $39 or $78, so the larger box will get you a greater discount. You can either get a 12 count 24 count and this box will only have chocolate covered strawberries.
Okay, I might be drooling a little bit here but I really like the sounds of the Irresistible Dipped Fruit Trio. This box is also available in a 12 count or 24 count, but it will come with chocolate dipped strawberries, bananas and apples. Each with a delicious topping as well. The 12 count is now $30 and was $45 previously. The 24 count is $60 and was $90 previously. There are lots of options, so definitely have a browse!
There are two ways you can get your Edible Arrangement. You can pick it up at your local Edible Arrangements store for free, or you can have it hand delivered for around $14.99. I usually pick my purchase up myself, because $14.99 could almost get me another entire arrangement!
(Expiry: 13th March 2016)