Cheap & Fun Tea Infusers from $1.75 @ Amazon.ca!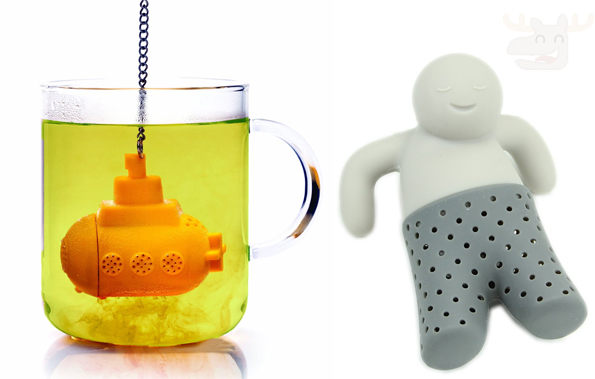 Over at Amazon.ca, there are quite a lot of tea infusers for sale, with various interesting designs at very low prices. A few weeks ago, Kristy mentioned this strawberry one which was only $1.75, and quite a few Moosers took advantage of that deal. I thought I'd write up a quick post with a few more ideas for you – have a read!
The next price point I can see is $1.99 with free shipping – that's for this musical note tea infuser (seller = Kangnice). They show multiple colours in the listing but there's nowhere to select your colour choice, so you'd probably have to go with whatever colour they send out.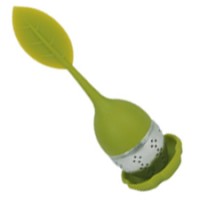 The green silicone leaf stainless steel infuser is $2.55 with free shipping (seller = huiman xu). I've pictured it directly to the right of this text. The design on this one isn't as quirky as some of the others.
I posted this one on Facebook the other day and it got a lot of interest – it's the Mr Tea model and he can be yours for only $2.72 with free shipping (seller = wawasdhf). I've pictured him on the top right of this post. One Facebook commenter had this to say:
Soooo, the idea is to have some sort of brownish liquid leak from this little fella's pants and into your drink? Yeah..."cute"
Well…. I never thought about it in that way!! I do still think it's cute though.
How about this Manatee Diffuser which is priced at $3.02 with free shipping (seller = wawasdhf)? I've pictured it at the top middle – I like how the manatee is peeping over the top of the cup.
Another idea for you is this Yellow Submarine Tea Infuser. However, it's a bit pricier, coming in at $5.81 with free shipping (seller = dancing flower). It looks like great fun, but I think it would be most suited if you've got glass tea cups, as shown in the image above.
I've actually got a couple of these at home – the stainless steel locking spice ball. Those ones are $6.98 from Amazon (or $2.51 & free shipping from the seller cosyzone). I frequently use these when I am having guests over and they want some herbal tea. Very handy!
How about you? Do you use tea infusers at home? Will you be buying one of the above?
(Expires: unknown)