Breaking Bad: The Complete Series [Blu-Ray] Only $87 @ Amazon Canada *HOT*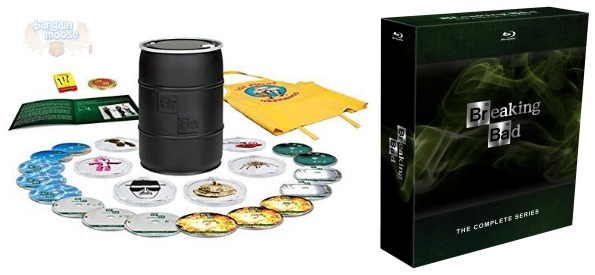 Breaking bad fans, you are going to die over today's deal at Amazon Canada. Purchase Breaking Bad: The Complete Series on Blu-Ray for just $86.99 at Amazon Canada
There was some confusion in the reviews because Amazon mashed together the reviews for a previous set (which was only seasons 1-4) and this set, which contains "all 62 uncut, uncensored episodes". Therefore, yes, all five seasons are in this box set and you will love every minute of it. What you will love even more is the price. I compared with other fabulous retailers of Blu-Ray sets and here is what they are selling this set for:
$155.97 @ Walmart Canada (OOS)
$162.99 @ Future Shop Canada (OOS - online)
$162.99 @ Best Buy Canada (OOS - online)
$149.99 @ HMV Canada (sold in store)
You may notice a slight trend - everyone is sold out online and you can reserve for in store pickup with the twins (Future Shop and Best Buy), but they are also near double the price! This is a hot deal and I honestly expect it to be out of stock any minute now.
Now, if you are a die-hard fan where only the best barely meets your expectations, then you need to purchase Breaking Bad: The Complete Series Limited Edition 2014 Barrel for only $119.99. Future Shop and Best Buy do not carry this product. Walmart Canada does, but it will cost you $210.97 there. This is a hard set to find and I fully expect it to sell out before the end of the day. As this reviewer says:
I can't even begin to go into how much I adore this set. Having missed out on it last year, I lost hope of ever owning it with the ridiculous mark-up for used copies. When the opportunity arose again in the form of this re-release, I simply couldn't pass it by. Now I understand why everyone has been raving about this set. It's absolutely perfect.
Take it from the happy customers!
Both these deals are for one day only. For your information, the DVD set is not on sale so do not even bother looking at it. Purchasing the DVD set would cost you more than the Blu Ray set right now.
Receive free shipping on all orders of $25 or more.
(Expiry: 5th December 2014)