Boxing Week Semi-Annual Clearance Event: Up to 70% Off @ TheShoppingChannel.com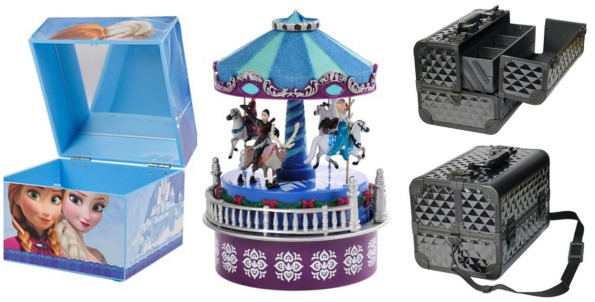 Some stores are still adding new items to their Boxing Week sales, like The Shopping Channel! They seem to be combining Boxing Week with their a Semi-Annual Clearance Event with recently added new merchandise to the sale and newly cut prices. I spotted some great deals that I'm excited to share. The discounts are up to 70% off and the clearance section is packed!
I have a family member who just loves The Shopping Channel. She has been purchasing from there for a very long time and always told me about these great brands they carry. For some reason I thought that the things they sold were geared towards an older audience but I was totally wrong. They carry products for all ages and I have gotten some great deals on The Shopping Channel just recently.
For kids, I spotted two Frozen themed decorations, both on clearance with majors discounts. This Disney Frozen Mini-Carousel was originally $29.99 and is now down to $8.99. I think this would great for any little girl's room. It also plays Let it Go in a music box sound when you wind it up. I'd even love to fall asleep to that song since music is great for creating a bedtime routine and Let it Go is my girl power anthem.
The second Frozen themed decoration I found was this Disney Frozen Keepsake Music Box. Similar to the Mini-Carousel, it also plays the Let it Go song, but instead of the music box sound it plays the real movie version. It was originally $29.99 and is now reduced to $8.77. It would be great to store your little one's treasures.
For the makeup junkies out there, I found this Black Cube Makeup Case which I just love. I already have one or else I would totally get this for myself, I'm still debating it since it is so cute. I have to say: I do have enough makeup to fill two cases! It was originally $129.99 and is now reduced to $65. The case has a lot of cool features which blow my current makeup case out of the water, like multiple pull-out trays and a PVC interior for easy cleaning.
The last thing that really caught my eye were these bliss Body Scrubs. They were originally $42 and are now reduced to $16.66. Two different scrubs are available : the Lemon and Sage Body Scrub and the Blood Orange and White Pepper Sugar Scrub. They even sound like they smell good!

These are only a couple of deals that are now available at The Shopping Channel online, it's not a website too many people would think to check for everyday things but there's all sorts of cool brands worth discovering. The only thing I'm not so fond of is the shipping of shipping. It's free on orders over $150 with the code SHIP150, otherwise it's calculated by weight. They do offer a multipack discount which cuts the shipping cost of every additional item you purchase in half.
Moosers, have you discovered any Shopping Channel brands that you'd like to share?