Blacks Canada: Buy 100 Prints & Get 100 Prints Free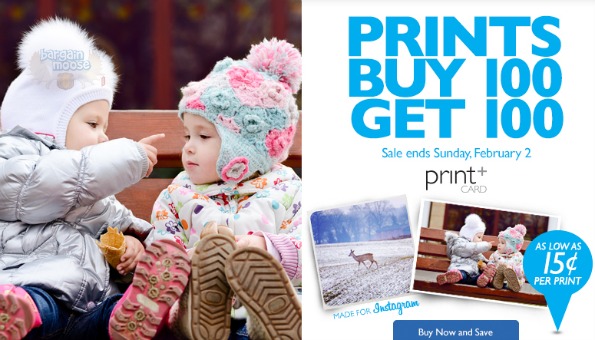 I am sure if you are like me, you took a ton of pictures over the holidays and have done nothing with them yet.  Blacks Canada has a deal on right now that will save you on prints.  When you buy 100 prints, you will get 100 prints for free.
Grab your prints from Instagram, your smart phone, your iPad or tablet and your good old fashion camera and make some use out of the great pictures you took over the holidays with this deal.
Since Blacks Canada offers prints as low as just $0.15 a print, you can save a lot with this deal.  Lets say you order 100 prints at $0.30 each.  The total would be just $30 and you would get 100 more prints for free.  That is 200 prints for just $30 instead of $60 getting you 50% off your order. That is a pretty incredible deal!
All of the prints both bought and free will be added to an e-card with this deal so you can use it at any time. This is perfect if you are saving some of them to make a Mother's Day or fathers Day gift in the next few months.
You will be able to pick up your prints on your e-card at your local Blacks Canada store at your convenience.
(Expiry: 2nd February 2014)