Bily Classic Crib Was $299 | Now $102 + Free Shipping @ Shop.ca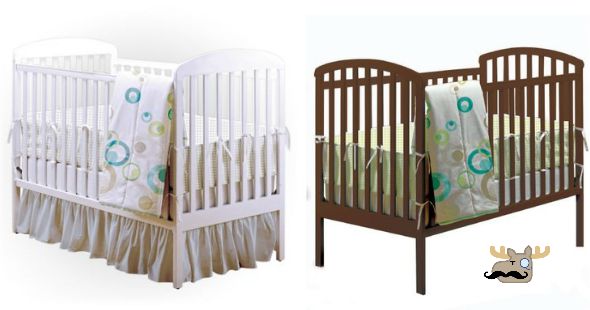 If you are expecting a baby, then you have probably already started crib shopping. Here is an incredible discount available when you combine a sale and a Bargainmoose exclusive coupon code. Right now Shop.ca has the Bily Classic Crib on sale from $299 down to $151.89, but what's even better? Apply our exclusive coupon code and pay just $101.89 including shipping!
Click here for the Bily Classic Crib in Cotton White @ Shop.ca now
Click here for the Bily Classic Crib in Walnut Brown @ Shop.ca now
There are two colours available in this Bily Classic Crub: Cotton White and Walnut Brown. Their price differs by a whopping $0.60, but I am sure that won't sway your decision on colours. Once you apply our Bargainmoose exclusive coupon code they are both a steal of a deal anyhow.
Coupon code: MOOSE50OFF125SEPT
Discount: $50 off $125
Expiry: 30th September 2015
This is the lowest price around for this crib right now, although Amazon.ca has had it for a similar price in the past. Take a look at what other Canadian retailers are selling this Bily Classic Crib for:
$159.99 @ Amazon.ca
$169.99 @ Sears.ca
$327.59 @ Staples.ca
The Bily Classic Crib has a mattress base that is springed. The mattress base has 3 different height settings, so as your infant grows you can lower the mattress base so they can't climb out. It is inevitable though, my son was even able to climb out of the lowest setting once he turned two. Then it was time to switch to a big boy bed, and man do I miss the crib. This crib doesn't have a drop side, which is good. I am pretty sure the drop sides are illegal now? Either way, this crib in either colour will be a perfect addition to any nursery. Plus you'll get free shipping! Who can complain about that?
If you are planning on spending more or less then please be sure to check out our Bargainmoose forum for the rest of our exclusive coupon codes for Shop.ca. Hurry though, these offers expire on September 30th, 2015. Here are the discount available:
Save $40 off $100
Save $50 off $125
Save $60 off $175
Save $75 off $300
Save $100 off $500
Save $150 off $1000
No matter how much or how little you spend, Shop.ca has totally free shipping which is always a great addition to any hot deal.