Big Bang Theory Seasons 1-7 Was $255 | Now $87 @ Amazon.ca *HOT* (EXPIRED)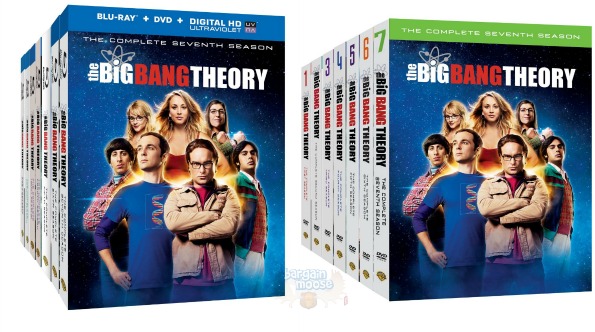 Are you a fan of nerds geeking out? Then you have probably been a fan of Big Bang Theory since season one. For Boxing Day, you can purchase the set of Big Bang Theory Seasons 1-7 DVD for just $86.99, originally $255. That works out to just $12.43 per season.
Of course, you want to get the best deal possible if you are going to part with that kind of cash. At Walmart Canada, they only sell the individual seasons. I added up all seven seasons in DVD and they came to $111.29. Even at Amazon Canada, individual seasons start at $14.47 and go up from there. This was the cheapest I could find all the seasons in DVD online besides Amazon Canada. While I only watched the first season or two of this series, I know many people who are huge fans.
Now, if you are trying to convert all your DVDs into Blu-Ray as I am, then you need to get this set in Blu-Ray. For today only, you can purchase the Big Bang Theory Seasons 1-7 on Blu-Ray (retail value $307.92), for just $114.99.
At Walmart Canada, I added up all seven season in Blu-Ray and the total came to $234.69! I am most interested in this deal as my husband watches the series and prefers all of his collections in Blu-Ray format. Even if you have a season or two already, purchasing the set and then selling the other seasons second-hand is the cheapest way to get all seven seasons.
Now, neither of these sets have any reviews as, I think, Amazon just compiled them for Boxing Day. That way, it is easier for buyers to purchase instead of having to hunt down each season. For reviews, see individual products. I looked at reviews for Season 7 and they are overwhelmingly positive. One reviewer said:
Many of my friends have defected but I still enjoy this show. In fact I like it more than I did the first 2-3 seasons as I couldn't stand Leonard. But he's more mature now. Of course Sheldon is just as socially inept. The cast is great.
I have to admit, I am one of those who jumped ship. Perhaps I should try this series again? Moosers, do you watch Big Bang Theory?
Receive free shipping on orders of $25 or more.
(Expiry: 26th December 2014)