Baker Ross 6-Pack Finger Spies with Wiggle Eyes Only $8 @ Amazon.ca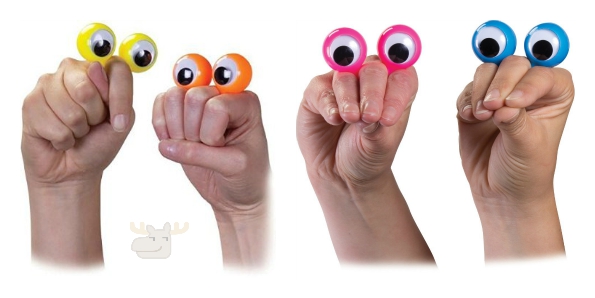 Baker Ross is a UK company that makes thrifty and fun toys for children. Yellow Moon UK Limited is selling a 6-pack of Finger Spies Plastic Rings with Wiggle Eyes for $2.99 + $4.99 shipping = $7.98 all inclusive.
These rings come in size assorted colours; therefore, each six-pack comes with a Blue, Green, Red, Yellow, Orange and Pink finger spy ring. These little wiggly eye rings turn your child's finger into a puppet. They are fantastic for small rewards, grab bags, party favours, and stocking stuffers.
These are plastic rings designed for children ages three and up. The spy rings fit a ring size of about 4cm.
It is time for a little price comparing. The next cheapest price in the Amazon Marketplace is $22.32 plus $5.00 shipping. I found the same rings on Amazon.com for $9.56 USD = $12.64 CAN. Essentially, this price is the best I have seen for these rings in Canada and in the USA.
As you are receiving a six-pack of these rings, each ring works out to be about $1.33. Your kids will have a riot with the wiggly eye balls on their fingers and you will have found an inexpensive yet fun toy. I highly recommend these rings for stocking stuffers as they are inexpensive and a lot of fun. If you have two children, merely split the pack between them. Put three in one stocking and three in the other stocking.
While I am usually not one for little gifts like these, the Baker Ross 6-Pack Finger Spies with Wiggle Eyes are in the top three Amazon Movers & Shakers in Toys & Games. That means that people love these cool little wiggly eyed rings.
I think small trinkets like these are perfect for small rewards when training your child. Perhaps they get a star on a calendar each time they do their chores. If every day has a star on it at the end of the month, then they get to pick a gift out of a small bin of inexpensive toys. These wiggly eye rings could be one of the choices.
(Expiry: Unknown)