Artscow Coupon Codes For Digital Photo Gifts!
I've done a few blog posts about Artscow.com in the past. They are a Hong Kong based digital photo gift site, which ship worldwide for free. I've ordered from them before, and their service is pretty good! I'm on their mailing list and they have sent me a few interesting coupon codes over the last few weeks, so I thought I'd share them here on Bargainmoose.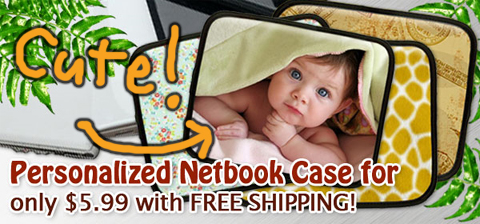 Firstly, you can get a personalized Netbook case for only $5.99US, which would be about $7.55CA (see it pictured above). There are 3 sizes to choose from, so be sure to check the dimensions against your netbook before you make your order. As the picture above illustrates, you could put anything on there, a picture of your kids, a funky design, some nice scenery… etc. To get this deal, be sure to use the promo code NETBOOKCASE599 at the Artscow checkout. Don't forget you get free Canadian shipping! This promo code expires on the 20th of April 2009.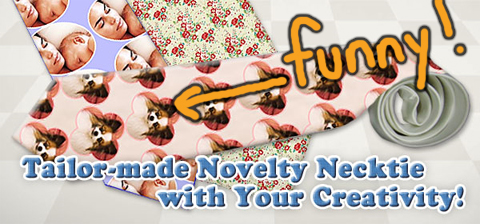 Secondly, how do you like the sound of a personalized necktie (image above)!? This is pretty hilarious actually, and would make a funny gift for a dad or uncle. The cost is $4.99US, or about $6.30CA. Free shipping too! To get this offer @ Artscow, be sure to use the discount code NECKTIE499 when you go through checkout. This promotional code also expires on the 20th of April 2009. You could make one for an anniversary present with a romantic couples picture, or maybe one for a birthday gift with something equally random. Perhaps the guy's favorite supermodel or TV celeb!?
Lastly, this offer is only on for a few more days, but I'll let you guys know about it so you can place your order asap. If you'd like a personalized doormat (pictured above), just use the promotion code DOORMAT1399 when you make your order. Expires 4th April 2009! The cost is $13.9US, or about $17.66CA. Wouldn't it be nice to put a photo of the mum-in-law on there, so you could wipe your feet on her every time you came home?!
UPDATE 1st April 2009 - new coupon code for 40% discount on all photo gifts until the 15th of April 2009 - DISC40OFF

UPDATE 3rd April 2009 - you can now order personalized playing cards for only $3.7US, or $4.65Ca. Just use this voucher code at the checkout - PLAYCARD377. See them pictured below. Coupon code expires 30th April 2009!

UPDATE 5th April 2009 - would you like to order a personalized money clip from Artscow? It's only $3.88US & free shipping when you use the coupon code MONEYCLIP388 before the 30th of April 2009. (Pictured above) That works out at about $4.80 in Canadian dollars.