Amazon: KitchenAid Strainer & Grinder Attachment Was $160 | Now $89.99 & $20 Rebate (EXPIRED)
Amazon Canada has a huge one-day Boxing Week sale on KitchenAid attachments for stand mixers. One of the best deals is the KitchenAid FVSFGA Fruit/Vegetable Strainer and Food Grinder on sale from $159.99 down to $89.99. It also qualifies for a $20 rebate via KitchenAid. Once you receive your $20 rebate, the attachment will have cost you $69.99.
This is a very versatile Stand mixer attachment. Use it to turn fruits, vegetables, and more into juice. In addition, you can use the attachment to grind either fresh or cooked meat for burgers, meatloaf, or whatever else your recipe requires. I like how this attachment pulls double-duty and fits on to the end of my Stand Mixer. The reviews are extremely positive with many reviewers positively bursting with pleasure at the attachment's usefulness:
We canned two bushels of tomato sauce in one weekend this year with the help of this little attachment. This made short work of juicing the tomatoes, about an hour and half for each bushel, with very low effort. The previous year saw us using a hand-cranked strainer, that required us to skin the tomatoes before using, and that took a whole day to juice the tomatoes and we didn't get nearly as much liquid. Long story short, this thing is worth every penny.
I could not see doing enough juicing in my house to make it worthwhile but for many people - this is a god-sent.
Several other attachments on sale also qualify for rebates. Combined, they are one of the best deals I have seen on these attachments.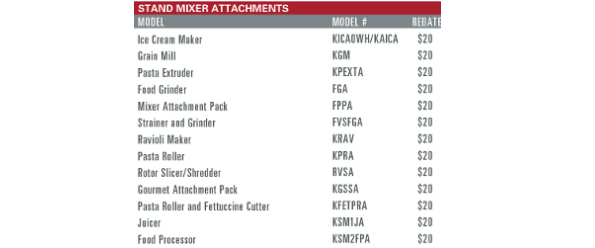 The KitchenAid KPRA Pasta Roller & Cutter Set retails for $279.99 and is now on sale for $139.99. As you can see from the graphic above, it qualifies for a $20 rebate bringing the price down to a $119.99.
The KitchenAid KSM2FPA Food Processor Attachment with Commercial Style Dicing Kit was $279.99 and is now on sale for $172.99. After rebate, your total would be $152.99.
In addition, the KitchenAid KSM1JA Masticating Juicer Attachment is at its best price yet on Amazon. Originally $279.99, pick up the unit for just $149.99. After $20 rebate, you will have picked up this sweet attachment for just $129.99.
There are many other attachments on sale. Receive free shipping on orders of $25 or more.
(Expiry: 25th December 2014)