Amazon Canada: YML Small Mice / Hamster Cage $7.54 (Was $31) -HOT-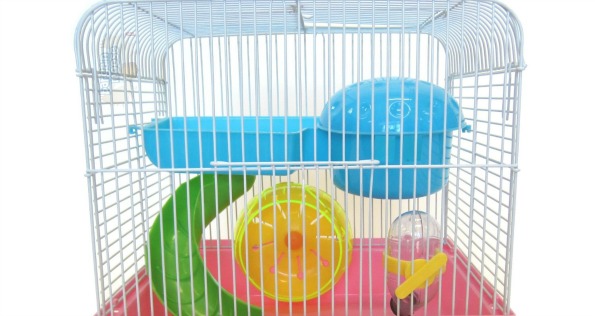 Do you have a small furry pet that resembles something that stereotypically sent housewives into panic and husbands chasing after the critter with brooms? If you own mice or a dwarf hamster, then pick up this cage for just $7.54, originally $31.
This is a small size cage, and comes complete with a dish, a wheel, and a water bottle. The description mentions nothing about the fun little igloo and slide toy pictured inside, but I assume it is part of the cage. The cage has a white wire body with 3/8 inch bar spacing to ensure your little ones do not escape.
This is a great carrier for transporting gerbils, mice, dwarf hamsters, and other small furry critters. This should not be used as the only cage unless your pet is very small (and only one), because it does not provide a large enough habitat for them to truly live a good life.
Rather, this cage can be used for transportation and as an alternate cage when you are cleaning out their main cage. It is very important to have a back-up cage for your little furry animals as it reduces stress when you are housekeeping their normal den. I used to stick my hamster in his plastic ball for him to roam around the house while I cleaned his habitat. Unfortunately, he often peed in the ball and made a larger mess for me to clean up once I was done with his home.
While you may think you will never transport your small creature, it is good to have the means to do so. Small animals can get sick just like any other pet, so visits to the vet might need to occur. I was in for a shock when I bought my first hedgehog - a couple weeks later she had three babies! I had to get my hands on an extra carrier to transport the little ones, once weaned, and find them new homes. While this is probably a rare occurrence - such things do happen!
At this price, you really cannot go wrong. I have never seen a small furry animal cage for this cheap before, in store or online. This is a great buy. Amazon Canada offers free shipping on $25 or more, so add it to your cart when you buy something else. Prime members can get the cage shipped free.
(Expiry: Unknown)