*BUMP* Amazon Canada: Wii U Deluxe Bundle + Free $40 Amazon GC Only $300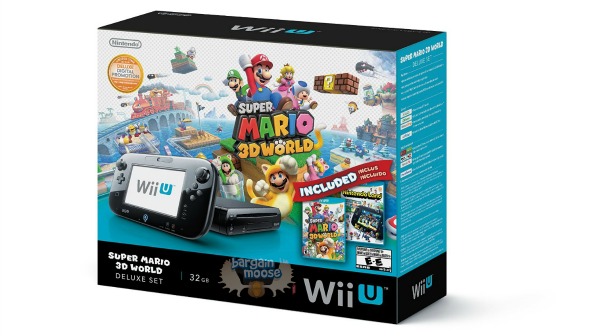 If you want to buy a Nintendo WiiU, now is the time to pull the plug. Amazon has the Wii U Deluxe Bundle on for only $299 and you'll get a free $40 Amazon gift card along with it.
The deluxe Wii U bundle includes:
Wii U console
Super Mario 3D world game
Nintendo land game
$40 Amazon gift card
You need to add both the deluxe bundle and the gift card to your cart and you'll still pay only $299.99. This is a really great deal considering just the deluxe set is $299.99 at Best Buy and Walmart, but neither include a free gift. You are basically getting the gift card for free. You can spend it on whatever you like (more games), or give it as a gift. Both will ship to you for free.
I have the Nintendo Wii U and I'm very glad we chose it over Xbox as it has lots of good games for kids and families. My kids play it regularly and their absolute favourite game is Mario 3D world. We actually spend the $70 or so on the game itself after we bought our console, so to get it included is very nice.
We also have Nintendo Land, but the kids haven't shown as much interest in playing it. I believe we also bought this game at full price because the kids wanted it.
Reviewers feel the same as I do:
Its so awesome! Loving the Wii U much more then other systems.

Love this game system! The shipping came right on time, without any damage.
Thank you so much!
The gift card comes in a little package of which you can choose the style, whether it be Christmas or birthday, so it makes it already pre-packaged and ready to give as a gift.
Like any Amazon deal, this could go quickly, so let me know if you see it is no longer available!
(Expiry: Unknown)