Amazon Canada: Uno Moo Preschool Game Only Was $25 | Now $12.49 (EXPIRED)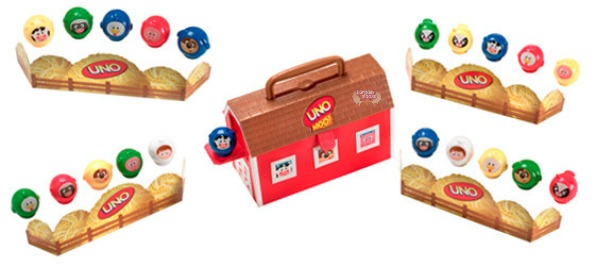 Amazon has a truck-load of board games on sale right now and I don't know about you, but board games are always on my to-buy list for my kids and for other family members. Uno Moo is now on for only $12.49, with a regular price of $24.99, which is 50% off.
Every year my in-laws and our family give each other a family board game to enjoy as a Christmas gift. With seven kids between the two families, neither of us can afford to buy each kid a gift, but we find it is always nice to get each other something that the whole family can enjoy. Both families enjoy board games and my family often has family board game night, so this really is a perfect gift. I also like it because they will sometimes get us games we hadn't heard of that their family loves and our family ends up loving it too.
While Uno Moo is a preschool game and neither of our families has preschool children any longer, I still wanted to blog it for all you Moosers with young children. I have had this game for years and it is definitely a winner. My kids still play it on a regular basis and it is easy enough for them to play without parental supervision. It is a cute way of learning colours, animals and patterns, plus the basics of playing a game and taking turns. Kids as young as two can play this game, and maybe even some sharp one-year-olds.
I also really like that this game is transportable and easy to take wherever you go.
Walmart sells this game for $19.97 and while I couldn't find it on Toys R Us's website, I know they have it in-store at regular price.
Since shipping is free on a $25 purchase, you might as well check out the other hot games deals going on. The Catan Expansion kits are also on sale for only $26.99, with a regular price of $47.04 for the Cities and Knights and $15.99 with a regular price of $22.40 for the regular extension.
(Expiry: Unknown)