Amazon Canada: Super Mario Brothers Star Plus Was $15 | Now $8.50 & Free Shipping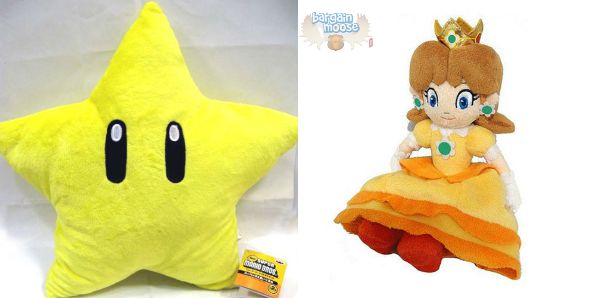 We recently told you about some hot Minecraft stuffies which tons of the Moosers actually bought. So I said to myself, if the Moosers want gaming stuffies, then that is what I will give them! Check out this Super Mario Brothers Starman plush, regularly $14.99 and now selling for $8.50 with free shipping from Amazon.
I can't tell you how much I don't like stuffies, but that my kids absolutely love them. The kids always win.This morning my son carried one of his stuffies all the way to school, to which he has named the same name of my husband. He doesn't want to be without his little stuffed friends. My boys are huge fans of Super Mario Brothers, so this star would definitely be one they would love too.
It is sold by a secondary seller on Amazon, but they have included free shipping and that is the key!
There are some interesting reviews on Amazon about this plushie, which say "good", "bueno" and "as expected". Really, it is a stuffed star, I'm not sure what sort of review it needs ;)
If you are a collector of Super Mario Bros items, this Little Buddy 8-inch Princess Daisy plush might interest you too. Regularly $24.99, it is down to $15.70 also with free shipping. Reviews on this one say it is still in great shape after having it a while. When you click that link, it will take you to Amazon selling it for more than the secondary seller (only a little more). If you look down on the side, you can see the secondary seller who is selling it for $15.70 and choose that one instead.
I found a few other Super Mario Brothers stuffies on Amazon, although not technically on sale. They did have a good price though and free shipping, like this Goomba and this Bowser.
After all this shopping, I think I'm ready to go play a spirited game of Mario Kart with the kids!
I couldn't find these plush toys anywhere else online in Canada or the States, so I could price compare for you, but if you are a stuffie shopper, you know that the good quality ones sell for $20 or more.
(Expiry: Unknown)