Amazon Canada: KitchenAid Artisan Mixer Only $239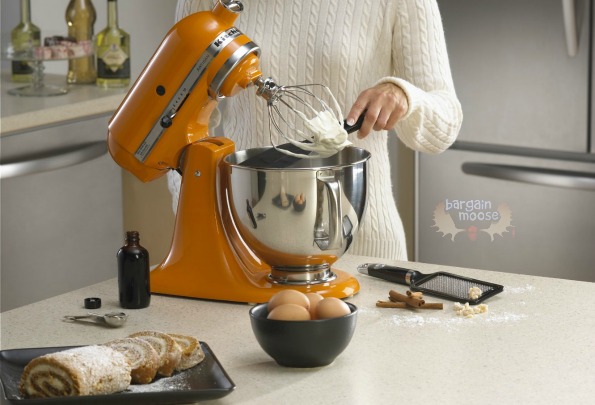 Amazon has dropped the price on their KitchenAid Artisan five quart stand mixer. Some colours are only $289.99 and the other colours have varying prices, but are also discounted. On top of this, KitchenAid has a mail-in rebate promotion going on for a number of their appliances, but on this particular model you'll get $50 back, making the price only $239, which is quite sweet!
I've been really wanting one of these stand mixers for my loves-to-bake husband. On a whim, he'll whip up a batch of cookies, muffins, cupcakes, a cake, or whatever and while I love him for it, my thighs don't like him as much. Either way, I'd love to reward his love of baking and get him something he'll really appreciate. This might be perfect gift to save for him for Christmas as well. While everything I bake turns to dough, I wonder if this appliance would help me be better at baking. I even made a boxed cake mix where you only add water and it didn't turn out. How does this happen? I think I may have over-whipped it and a stand mixer would take this step right out of my hands.
While both the black and the white are ultra-slick and at the $289 price point, I really love that you can accent your kitchen with a kitchen appliance like this. I have the Artisan food processor in red, and it looks amazing on my counter, so it would be nice to match them up. The red is also $289 and so is the very hot metallic chrome. Decisions, decisions!
Depending on the colour you want, this item may sell out fast, so don't hum and haw over this and come back tonight hoping to get the colour you want. For example, the watermelon, while the most expensive at $403.56 only has six left in stock.
Amazon will ship this item to you for free as well. I'm not sure when this deal will end, but the mail in rebate deal ends in September, so you have quite a bit of time to get your forms in.
(Expiry: unknown)