Amazon Canada: Crucial M500 240GB SATA SSD Was $210 Now $85 (EXPIRED)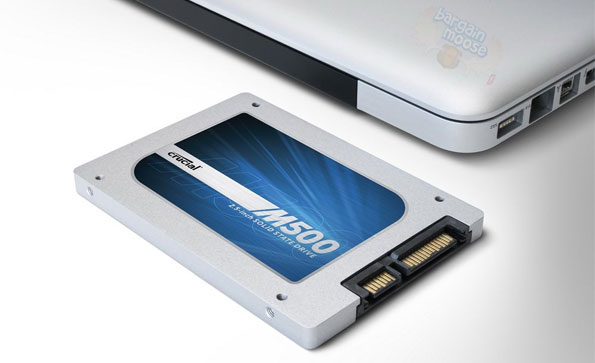 * Bump - now down to only $84.99 with free shipping in a Boxing Day lightning deal @ Amazon.ca! *
Here's a hot little item for all those looking to either build or upgrade their computer: the Crucial M500 240GB SATA SSD is currently on sale for just $89.99 $84.99 at Amazon but hurry, because it's sure to go back up in price very quickly. It was originally priced at $208.99, which means you are looking at $119 in savings (57% off).
The Crucial M500 240GB internal solid state drive is designed to be incredibly faster than a regular hard drive as it has a 500 mb/s sequential read, 50 mb/s sequential write and 4KB random read. According to its description, it also features "top-level hardware encryption technology".
This nifty little SSD also has a ton of extremely happy reviews. Well, by a ton, I mean over 75 but 63 of these have rated it 5/5 stars! Only one reviewer rated it one star and that's only because of a price discepancy at the time of their purchasing, which had nothing to do with the product itself. Here's what one happy reviewer had to say about it:
I bought and installed this drive into an Early 2009 iMac running OSX 10.10. It completely changed how the computer works and it is like a brand new machine! I love it! The swap (of existing 1TB 7200rpm drive) required some tools and a 3.5" drive carrier from OWC, then I followed instructions from ifixit to do the work. Once installed, I had to boot on a special CD to upgrade to latest M05 firmware, then install the OS and restore from Time Machine. All worked perfectly and the performance on a SATAII interface is ideal. This is a winner!
Amazon's price is also the lowest all around. NCIX is currently selling this same Crucial SSD for as much as $131.99. Newegg has it for $94.99 but with shipping, it comes up to $100.98 in total. This is also the best deal compared to the other available storage size, though these are on sale as well in case you need ones with either lower or higher storage sizes:
120GB: reg. $120.99/ now $85.98 (29% off)
480GB: reg. $406.99/ now $213.32 (48% off)
960GB: reg. $659.99/ now $485.98 (26% off)
Since Amazon automatically ships orders over $25 for free, you're sure to get free shipping on this little item as well. In case you have never ordered from Amazon before, shipping is fast as well.
(Expiry: Unknown)