Amazon Canada: Crock-Pot 4-Quart Stainless Steel Slow Cooker Only $18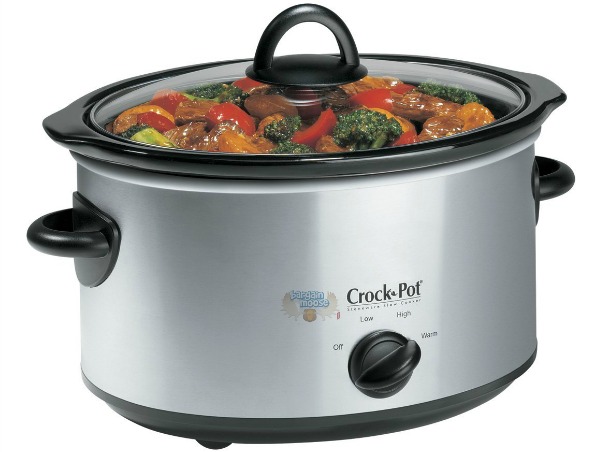 I'm already stressing about dinners and lunches and its only the first day back to school! I work from home and find it hard to give myself a break to go and cook a healthy lunch. I need to get a list of recipes together that are either quick to make or I can make ahead. The same goes for dinner time, as my kids have lots of extracurricular activities booked and I need them to eat right after school. A slow cooker is seriously a life and time saver in these situations. Amazon has an awesome deal on right now for the Crock-Pot 4-quart stainless steel oval slow cooker, now only $17.98 with a regular price of $24.99.
I actually have this exact slow cooker, but I have no idea where I got it and what I paid because I've had it for years. It is a good size, cooks the food perfectly and I really have absolutely no complaints. I've also used it to make a hot chocolate bar at home last Christmas. I just made a large batch and everyone scooped from it. This year I'm going to try that with apple cider. Slow cookers are seriously very versatile.
Four quarts is equal to 3.7L, which says will feed 4-5 people and I'm going to assume children are only half a person, so it is probably more than enough for a family of five like mine. It has stick-resistant coating so it is very easy to get clean and I can also attest to this. You know when you cook those hearty dishes that inevitably stick to the sides in a crusty, hard mess? Well, those come off with just a wipe of the bowl. It can even go in the dishwasher!
There are a few reviews on Amazon's site, giving it a 4 out of 5 star rating, including this one:
If you want a basic slow cooker for an affordable price, this is the one. But emphasis on the word "basic". This is not my first Crock-Pot, and I can see how the quality has slipped over the years. That said, however, it does the job. I know that the high setting is going to cook quickly, the low setting will probably be the ideal setting for actual slow cooking, and the hold warm setting does just that.
Amazon offers free shipping on orders over $25, so you might want to look around for a low-cost item to add to your order and get your shipping covered.
(expiry: unknown)