Amazon Canada: Classic Cartoon Deals Only $14.99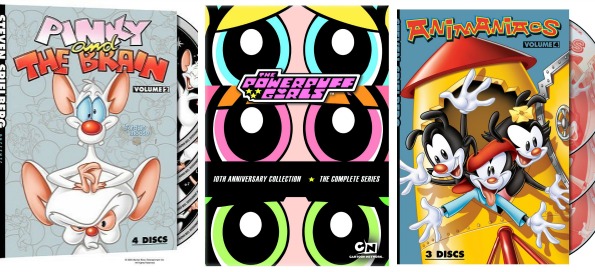 I'm a fan of cartoons in general, but classic cartoons are really where my heart is at. Pick up full seasons of classic cartoons for just $14.99 right now at Amazon Canada.
There are a few deals I found that really make this offer pop. You can buy Volume 1, Volume 2, and Volume 4 of Animaniacs for just $14.99 each, originally they cost $33.74 to $41.19 a volume. I price compared with Best Buy which is only selling volume 4, and they have it priced at $25.99.
Now on to one of my all time favourite cartoons: Pinky and The Brain. This cartoon has the best lines ever:
Pinky: Gee, Brain. What are we going to do tonight?
The Brain: The same thing we do every night, Pinky. Try to take over the world.
I quote these lines about once a week when either trying to figure out what to do, or when preparing to play Civ. I own volume one and can now buy Volume 2, and Volume 3 of Pinky and The Brain for just $14.99 each. You are saving 64% off the Amazon original price of $41.19 a volume. HMV has these seasons for $52.99 each!
As an 'honourable mention' because it costs a bit more than $14.99, you can totally score the Powerpuff Girls: The Complete Series (10th Anniversary Collection) for only $19.99 which is 73% off the original price of $74.98. Any Powerpuff fans out there?
Get free shipping on orders of $25 or more.
(Expiry: unknown)