Amazon Canada: Buy Select Blu-Rays & Get $10 Off At Cineplex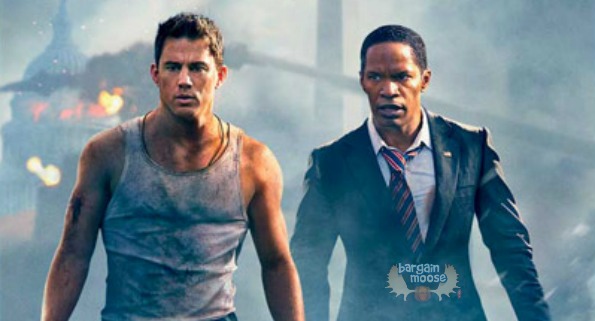 Want to see White House Down? Channing Tatum, Jamie Foxx, lots of gratuitous violence and machismo, how can anyone say no? If you do want to see this movie, you can buy a select Blu-Ray movie from Amazon, many of which are around the $10 range, and you'll get a movie cash certificate for $10 to go see White House Down in theatres. Alternatively, if Matt Damon, Jodie Foster and sci-fi are more your thing, you'll get $10 towards seeing Elysium.
Basically, you'll buy the Blu-Ray movie of your choice from the list of selected movies, you'll get a code to get $10 off your admission to either movie and then you'll go to http://www.cineplex.com/Promos/WhiteHouseDownElysium.aspx and buy your tickets. You will need a printer to print your movie tickets and you'll need to know what time and date you'll be going when you do it.
Only one promo code is allowed per transaction and it is not valid for midnight showings or able to collect Scene points. Coupon is valid until White House Down is no longer in theatres.
You'll basically get your Blu-Ray movie free with this promotion. Some of my favourites from the list you can choose from:
21 Jump Street - probably my all-time favourite movie, was $26.99, now $10
Snatch - a must-see! was $19.99, now $9.83
Salt - because you can't just have all the eye candy for yourself, was $19.99, now $9.98
Shipping is free on orders over $25.
(Expiry: 9th August 2013)