Amazon Canada: American Flyer 4-Piece Luggage Set Only $133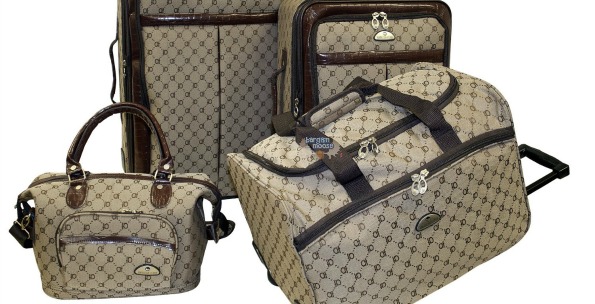 Going somewhere? Well, don't go without packing right! Amazon has a great deal on an American Flyer 4-piece luggage set for only $133, was $336. I tried to price compare, but didn't see this set much anywhere else in Canada, but I know this is a great price for luggage.
Unfortunately, I am not going anywhere in the next few months, but if I was thinking of going anywhere in the next few years, this set would be great for my family. I also love that the pattern on it is unique because it is a major pain trying to find your black (or even red) suitcase among the other 99% black suitcases on the turnstile. The pattern is also really nice, but neutral so your husband won't mind carrying it through the airport.
The set includes:
24-Inch upright (24-Inch X 16-Inch X 9-Inch, 8.6-Pound)
20-Inch upright (20-Inch X 14-Inch X 8-Inch, 7.2-Pound)
18-Inch rolling duffle (18-Inch X 11-Inch X 11-Inch, 4.6-Pound) and
cosmetic satchel (11.5-Inch X 10-Inch X 8-Inch, 1.4-Pound)
The upright cases have a telescoping handle system with in-line skate wheels for ease of use wherever you go. You can also expand them by 2 1/2 inches for additional packing space. The wheeled duffel bag has a recessed telescoping handle and the cosmetic satchel has a carry strap.
Reviewers gave good reviews and said this set looks even better in person than in the picture and that they were very durable. The only thing that surprised people was that they weren't as big as they thought, but the measurements are listed, so you can figure that out before purchase.
Shipping is free.
(Expiry: 19th January 2014)