Amazon Canada: 77% Off Egyptian Cotton Terry Robe Now $9.79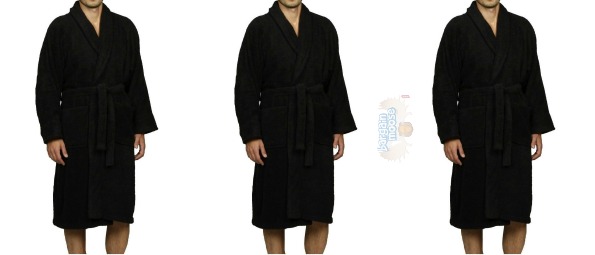 Once in a while, I find odd little deals that are perfect if you are just the right person. This deal is perfect for a small person looking for a black bath robe. Get the Superior Egyptian Cotton Unisex Small Terry Bath Robe in black for only $9.79, which is a breath-taking 77% off the regular price of $42.99.
This is a unisex small which should fit a small man and a small to medium sized woman, depending on how smothering she likes her robes. The dimensions are approximately 71" x 50" x 52". The discount is only available on the combination of small & black for size and colour, so don't try any other combos, because they will just come up as full price.
The robe is machine washable. Each robe has a terry belt, two patch front pockets, and adjustable sleeves that can be folded back for style and comfort. One commenter said he found the sleeves a bit short, but another commenter didn't seem to have the same issue. Another reviewer said that the robe comes down longer than in the picture, but I assume the length of the robe on your body will depend mostly on your height.
Out of nine reviews, the robe averages a 4.4/5 stars. Get free shipping when you spend $25 or more at Amazon.ca.
(Expiry: Unknown)