Amazon Canada: 72% Off Small Elevated Pet Feeder $6.16 -HOT- (EXPIRED)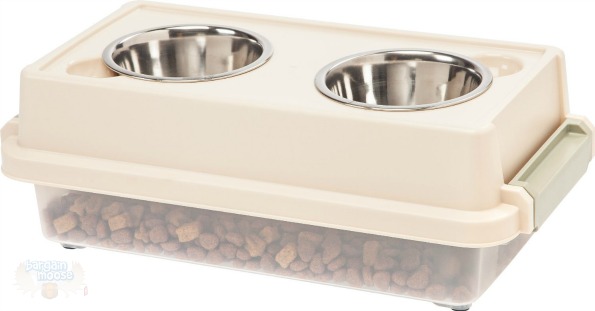 This is a hot little deal for any owners of cats or small dogs. Get 72% off a small elevated pet feeder with air-tight food storage. Originally $21.99, the pet feeder is now on sale for $6.16.
This is a sweet little unit, not just because of this price but also because it is functional and perfect for cats and small dogs alike.  You get a feeding area and storage for food all in one unit. The clear plastic part of the unit can store up to five pounds of dry food and it snaps closed with latches providing an airtight seal. While the main unit is plastic - almond coloured with sage latches and clear food storage - the bowls are made of stainless steel. They each hold two cups.
My favourite features, besides the food storage, include the thumbholes for pulling the dishes out of the unit and the non-skid rubber feet. My cats love to relocate their food dishes all over the dining room. I find Ghost's dish halfway under the dining room table and I have to fish it out each time I need to feed him. The non-skid feet would sure be nice.
There are different sizes and colours for this container, but this is the only one on sale for such a great price. One reviewer on Amazon bought the small and had this to say:
Using this for my tween dachshund and it's the perfect height. She seems to approve!! Keeps her food fresh to boot!
Make sure you check what size people are reviewing as comments like "perfect fit for husky" does not apply to the small one - they are reviewing the large. Overall, the container has very positive ratings with everyone but one person voting 5 stars. The other colours in size small are priced at $24.99.
A reviewer mentioned this being perfect for traveling, as the food travels with the dishes and the dishes are kept upright by the plastic container. They said you have to be careful when opening the food, so you do not spill the water, but that was a minor issue.
I love this dish and am tempted to get one for each of my cats. The only thing I do not like is the size of the water dishes. My boys drink a lot of water, so I would be refilling these bowls quite often.
Receive free shipping on orders of $25 or more.
(Expiry: unknown)