Amazon Canada: 50% Off Mega Bloks First Builders Friendly Farm Just $20!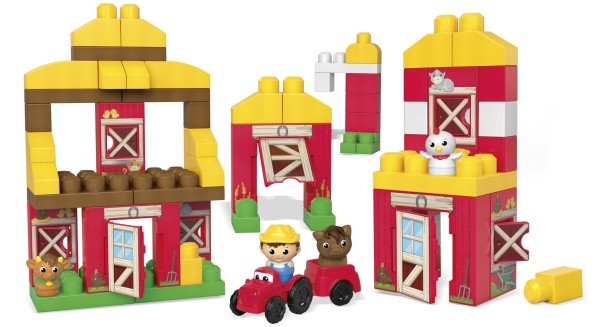 Most tots love Mega Bloks, and this is definitely a set that both boys and girls will love. The Mega Bloks First Builders Friendly Farm Building Set is currently on sale for 50% off at Amazon.ca, which puts the price at just $19.99. You won't find this Mega Bloks set priced this well anywhere else. Spending $25 to get free shipping, and I even know of a perfect filler item to get you to that spending point.
The Mega Bloks First Builders Friendly Farm Building Set has a whopping 70 pieces! The set includes the farmer, a cow, a horse, chicken block buddies, the tractor and enough blocks to build a tower that is 3 feet tall. There are even barn panels that can be rearranged in dozens of ways to keep the barn building interesting. Plus, this set can be combined with other Mega Bloks sets for even more fun. My son has the John Deere set that comes in the large tub, and it would go well with this farm set.
Here is a look at what this Mega Bloks set sells for at other retailers:
$39.95 @ Chapters.Indigo.ca
$39.98 @ Walmart.ca
This toy is best suited for children between the ages of 1 and 5, but I have seen younger children play with Mega Bloks. Any tot under the age of 1 is most likely to just bang the pieces together, but it is entertainment either way. This set comes in a tub with Mega Bloks base pieces as a lid. So dump out the tub and build your farm. When your child is done tending to the farm chores, the set can all be put back in the tub for easy storage. That sure beats stepping on these suckers in the middle of the night.
If you have Amazon Prime, you will get free shipping on this cute little toy. Otherwise, you will need to spend $25 or more to get free shipping. Why not add this Mega Bloks John Deere Tractor to your shopping cart as well? It is on sale from $14.99 down to $7.45 and that is the absolute lowest price around. Plus, you will then receive free shipping on your order.
(Expiry: Unknown)