Amazon Canada: $50 Off Cuisinart PerfectTemp Programmable Kettle (Tea or Coffee) - Was $130 | Now $80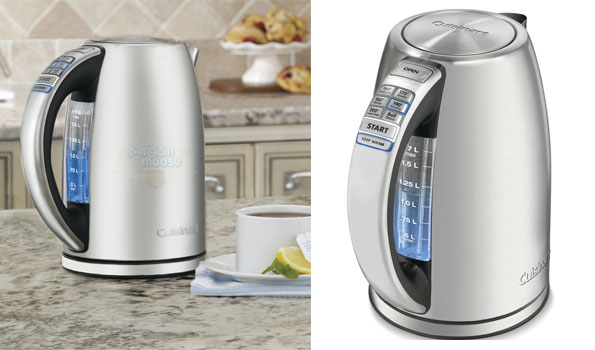 Love to have a lot of options at your disposal? The Cuisinart PerfectTemp CPK-17C programmable kettle is currently $50 off at Amazon. Originally priced at $129.99, it's now down to $79.99.
Not only does the PerfectTemp kettle look amazing but the great part about it as that it has a myriad of different options. It has the following preset temperature controls, along with the appropriate indicators:
Delicate (160°F)
Green (175°F)
White (185°F)
Oolong (190°F)
Herbal (200°F)
Black (Boil – 212°F)
French Press (200°F)
With the last preset, you can impress guests by making them a French Press coffee with your tea kettle... or you could just use it for yourself of course. This is actually a pretty neat feature because instead of cluttering your counters with plenty different tools to for coffee or tea-making, you could just have the one.
Powered with 1500 watts of power for faster heating, this kettle has a total hold capacity of 1.7 liters, has a 30-minute keep warm function, has a 360 degree swivel cordless connector and a blue backlit water window. It also boils dry and automatically shuts off when ready or when there is no more water. If you happen to lift it off the base before it's done brewing, then it also has a 2-minute memory feature that will keep it from shutting off and losing the brewing time.
With all its bells and whistles, this kettle certainly looks great, especially with positive reviews like this one that I found on Best Buy's site, where it's priced at $89.99:
I was struggling to find the perfect kettle for various types of teas, until I came across this one. It is easy to use, small footprint, and has no BPAs.
Other reviewers knocked this kettle for having "too much of a good thing" and that all of the options are overkill. The way I see it though is that if you don't want all of these options, then don't get it in the first place! Personally, I love having different options at my disposable, so to me, this is actually a perk!
At Kitchen Stuff Plus, PerfectTemp kettle is currently on sale for $99.99 (reg. $124.99), which is still significantly higher than at Amazon.
By getting it at Amazon, you're also set to get free shipping as all orders over $25 automatically ship for free.
(Expiry: 20th April 2015)