Amazon Canada: 5-Speed KitchenAid Blender Only $88.99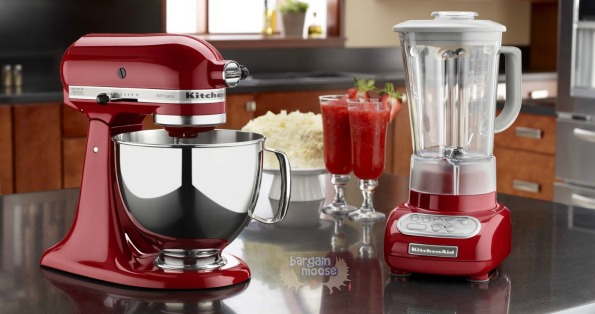 Get the KitchenAid Five Speed blender with polycarbonate jar in empire red for only $88.99, was $189.99. I price compared this with other sites, and you couldn't get this blender for under $100 anywhere else.
I'd love to get this blender, especially considering I have the matching food processor in empire red. I find the colour striking in my off-white and black kitchen, and it really makes it a standout piece. Not just a functional item, the KitchenAid blender is also a decorative item.
The jar is shatter-resistant, which is so important as I once broke the jar for my food processor, rendering it useless, even though it cost me almost $200. Hence, why I bought the new KitchenAid one, so it ended up being a win anyway. It holds 56 ounces, which is definitely a great amount. The controls are easy to use and you can blend in five speeds with the Intelli-speed electronic controls. The way the pitcher is built, it eliminates food getting trapped at the bottom so you aren't having to use a toothbrush every time you want to clean it. It also has an advanced air flow design to keep the blender cool while you continue to blend with it.
Not only can you blend drinks in here, you can puree, stir, chop, and mix everything from smoothies to frozen drinks to soups. Honestly, this item is a must-have in a cook's kitchen. It would make an amazing wedding gift, especially for the cost.
Reviewers say it is quiet, powerful and even compares to the more expensive, professional blenders like the Vita-mix.
Shipping is free!
(Expiry: Unknown)