Amazon Canada: 26 Free Apps Bundle For Android (Valued At $110)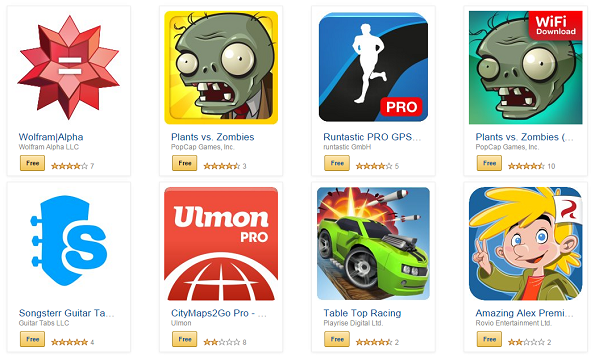 Wahoo, free apps! Freshen up your Android device and download a slew of great free apps. Today only, you can grab this bundle of 26 free Android apps. So go crazy and download until you run out of space. They are all completely free!
Here is a sampling of some of the included apps:
Plants vs. Zombies
Plants vs. Zombies (Wi-Fi Download Only)
Runtastic PRO GPS Running, Walking & Fitness Tracker
Songsterr Guitar Tabs & Chords
CityMaps2Go Pro
Table Top Racing
Virtua Tennis Challenge
Osmos HD
This list just keeps going. Here are some of my favourites that I am excited to download.
Plants vs. Zombies is almost a classic at this point and has been highly reviewed. This is a very addicting game. Move up through the levels so you can get something better to attack those Zombies with than the peashooter. There is also a Wi-Fi download version of this game, perfect for playing. According to Amazon Plants vs. Zombies has been named game of the year in over 30 different publications.
Runtastic Pro  will help you track your fitness. This app has been free before, but you may have missed it. Now that the weather has broken, you may be considering a new fitness routine. In addition, this app will cheer you on and track your progress as you run. Sometimes I need that boost. This app is also ad free.
I am looking forward to trying the Pudding Monsters game. This is a puzzle game designed by the same creators of Cut the Rope. This looks to have fun graphics and I could see it being a lot of fun to squish these little monsters together. Players seem to like that the puzzles become more and more challenging. This looks like an addictive and fun game to play when you have just a few minutes.
I sometimes run out of space for all the freebies I want, so here is a tip. Download everything you may want for now, and then delete any you do not want right away from your device. According to Amazon Canada, the apps stay in the cloud library until you manually delete them. No need to use all your space at once, save a game or two for later in the cloud. I always carry too many photos on my device and most of my space is often is full. This technique helps me take advantage of freebies when I have not yet taken the time to delete my blurry photos.
(Expiry: 16th April 2015)