Amazon Canada: $231 Off KitchenAid Architect Food Processor - Now $168.35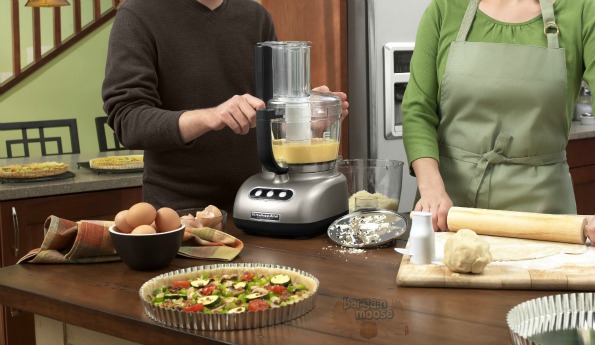 Wow is this a deal! Save $231.64 on this KitchenAid KFPM773CS Architect Series Food Processor with 3 Bowls, 12-Cup in the colour Cocoa Silver. Pay only $168.35 - originally $399.99.
Features:
12-cup work bowl allows you to quickly process large quantities of food with power and efficiency
10-cup chef's bowl fits inside the 12-cup work bowl, so you don't have to clean the work bowl between tasks
4-cup mini bowl with stainless steel mini blade fits inside the work bowl for small chopping and mixing jobs
The Ultra Wide Mouth Feed Tube accommodates tomatoes, cucumbers, and potatoes with minimal prep work required
The stainless steel multipurpose blade chops, minces, blends, mixes, and emulsifies foods quickly and easily
This is the food processor we have - except we have a different colour. The three bowls come in very useful when you don't want to mix all your ingredients. It has a 12-cup capacity which is just perfect for large casseroles. My husband makes an entire 9 x 13" casserole with his. The ultra-wide mouth is a blessing - a lot less veggie chopping. We can just half good size potatoes and they go in no sweat.
Expiry: Unknown