Amazon.ca: Transformers Age of Extinction Collectible Statue Set Was $120 | Now $35 & Free Shipping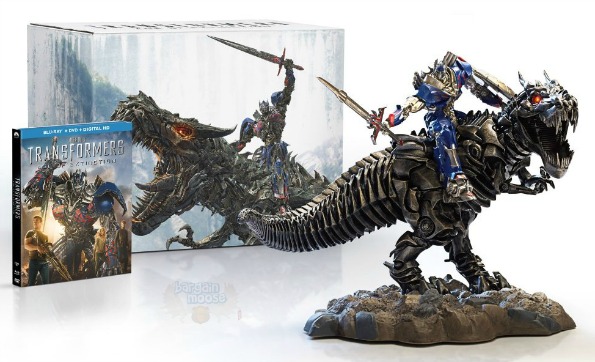 Amazon.ca is selling an incredible Amazon exclusive Transformers set for 71% off the original price. Transformers: Age of Extinction - Limited Edition Gift Set with Grimlock and Optimus Collectible Statue [Blu-ray + DVD + Digital Copy] is on sale from $119.99 down to $34.99. as per usual, all orders of $25 or more come with free shipping.
This is an exclusive to Amazon gift set so price comparing is just not possible. I did compare the set against Amazon.com where it is currently on sale for $44.99 US. Given our exchange rate right now, that is worth approximately $55.80. I think Amazon Canada is giving the better deal here.
I have not even seen this movie and I want this limited edition gift set. It is not rocket science to figure out why: you have Optimus Prime sitting on top a massive dinosaur (Grimlock). I have mentioned before that I really like Grimlock because you cannot get better than combining a mech and a dinosaur together. It is the perfect mash-up of prehistoric and modern technology. He looks wicked awesome.
Also, who does not like Optimus Prime? The guy is a truck that turns into a huge mechanical fighting machine. He is the saviour of the day, the noble metal hero who tries to protect humanity. In short: he is everything every kid ever wanted to have in a best friend. I watched the first two movies before I got a bit tired of the weak story line and just wanted to see mechs transform and fight. It seems I am not alone in my view on the movie:
The movie was great, not because of a cheesy story script but mainly for the CGI and mecha-action. I am not a huge transformers fan but the action figure is what got me into buying this movie. I am happy with the purchase and it looks and feels authentic! I recommend getting this item!!
Now, the movie includes Blu-Ray, Digital, and DVD formats. If you were to purchase just the movie separately right here, you would pay $29.99. Therefore, for an additional $5 you are getting this awesome statue. Even if you do not like the statue all that much, you could easily resell it for profit! You can really see why this is such a great deal when the Blu-Ray set alone costs almost as much as this limited edition set with the statue.
(Expiry: Unknown)