Amazon.ca: Disney Infinity Playsets just $24.99 & Free Shipping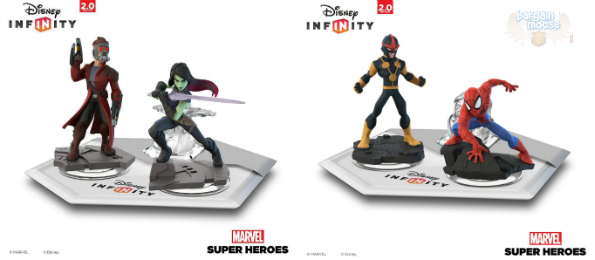 Amazon Canada has discounted a couple Disney Infinity: Marvel Super Heroes play sets from $34.99 down to $24.99. Choose from the Spiderman Play Set or the Guardians of the Galaxy Play Set. All orders of $25 or more ship for free from Amazon Canada, so the play sets qualify for free shipping.

Now, the Guardians of the Galaxy set is easy to find (the Amazon Edition pops up), but for some reason a secondary-seller pops up as the 'main offer' for the Spiderman Edition. Do not fear. Look for the little link below that says "4 new from CDN$ 26.99." Click on that link and the first offer you will see is Amazon Canada's price at $26.99 (see below). The reason it is hiding there is it will take 1 - 4 months to ship (is not currently in stock).

I price compared both play sets with other retailers. At the following retailers, the Spiderman play set costs:
$34.99 @ Future Shop (OOS)
$39.99 @ Chapters Indigo Canada
$34.83 @ Walmart Canada (OOS)
$34.99 @ Best Buy (OOS)
As for Guardians of the Galaxy, I also price compared that set in case the price was different. Here is what I found:
$39.95 @ Chapters Indigo Canada
$34.83 @ Walmart Canada (OOS)
$34.99 @ Best Buy Canada (OOS)
$34.99 @ Future Shop (OOS)
As you can see, Amazon Canada not only has the best price on these sets, they actually have them for sale. I searched four other stores for these sets with three out of the four stores sold out. These play sets appear to be difficult to acquire online right now, so this is not only a nice sale but also great timing.
The Spiderman Play Set comes with Spider-Man, Nova, and an all-new Marvel's Ultimate Spider-Man Game only available in this set. The Guardians of the Galaxy Play Set comes with Star Lord and Gamora. Unlock awesome intergalactic adventures with these two. One reviewer pointed out some important differences between packs:
The biggest thing to know is that it varies from the Avengers playset quite a bit. Like that one there is a heavy combat focus, but I would argue the missions are more varied. Rail slide challenges, anti-air shooting gallerias, and platform puzzles are easy examples of this.
As per usual, these sets do not come with the Marvel Infinity game, you will need to already own it or purchase it separately.
(Expiry: Unknown)